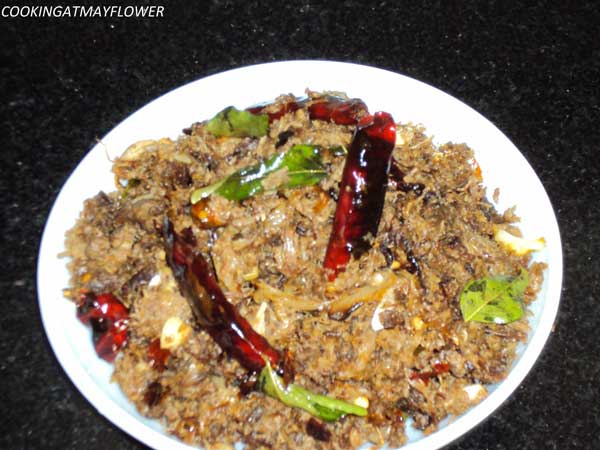 Ingredients
1)  Beef     – 1/2 kg
2)Ginger, chopped   – a small piece
Green chillies, slit  – 3 nos
Salt as needed
Curry leaves – 1 fistful
3)Coconut oil    – 3 tbsp
4)Garlic  pods    – 4-5 nos crushed
Onion, chopped  – 1 no.
Dry red chillies  – 6-8 nos
Curry leaves – 1 sprig
Method
Pressure cook beef, ginger, green chillies, and salt. Open the pressure cooker and dry out the water if any.
Keep the cooked beef aside to cool. Now place them in the freezer for 45 mins to 1 hour. Remove it from the freezer and crush them in the blender.
Crush dry red chillies and garlic. Keep this aside.
Heat oil in a pan. Saute onion and curry leaves. Now add crushed dry red chillies and garlic. Saute them. Now add crushed beef and fry till they are crisp.