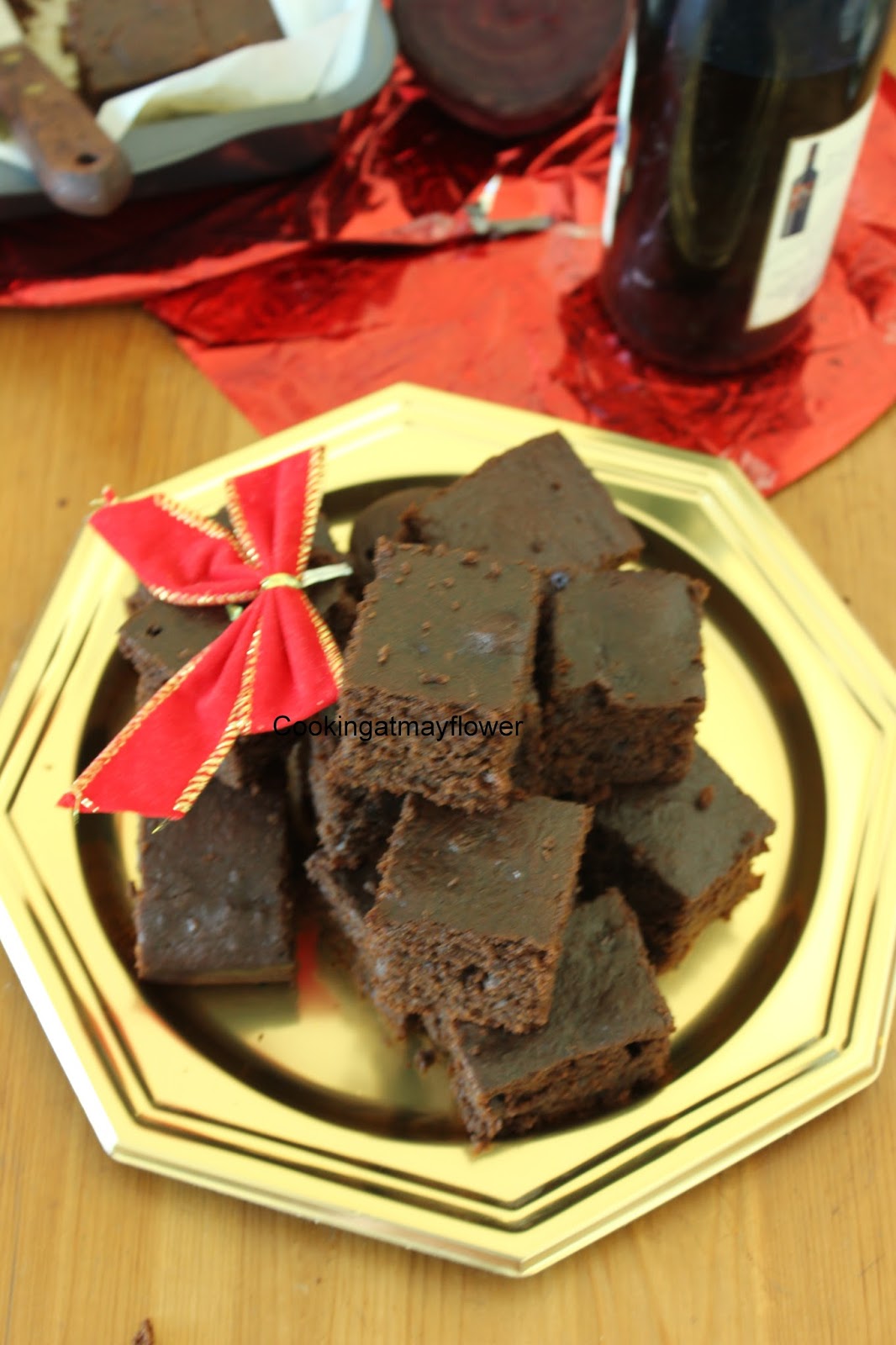 Happy Valentine's Day to all. I am also celebrating my 600th post here with this beetroot cake. Thanks to all who read the blog and help me day by day to improve it.
Check my milestone posts here:
300th post – Pavlova served with strawberries and cream
400th post – Black Forest Cake
500th post – Chocolate Semifreddo
Ingredients
Beetroot, boiled – 3 medium
All purpose flour – 1 cup
Wheat flour – 1 cup
Cocoa powder – 1/2 cup
Baking soda – 2 tsp
Salt – 1/2 tsp
Eggs – 2 medium
Unsalted butter, melted – 1 cup
Honey – 1 cup
Strong coffee, cooled – 1/3 cup
Yogurt (mixed with water) -1/4 cup
Method
Preheat oven to 350 degrees. Grease a 13 x 9 pan.
Puree the cooked beetroot in a blender. Set aside one cup of beetroot puree. Transfer this through a fine sieve and drain of any excess moisture.
In a medium bowl, Sift together all purpose flour, whole wheat flour, cocoa, baking soda and salt.
Crack eggs into a large bowl and whisk until frothy. Pour in the melted butter and beat. Add honey then beat until mixture is smooth and glossy. Add coffee and beetroot puree and combine well.
Gently whisk the dry ingredients into the wet ingredients. Pour in yogurt. Mix to avoid any lumps. Do not over mix. Transfer batter into the prepared pan and spread evenly with a spatula.
Bake for 25 to 35 minutes until a wooden toothpick inserted near the center comes out clean. Cool in the pan on a rack for about 10 minutes. Slice into squares and serve warm or at room temperature.