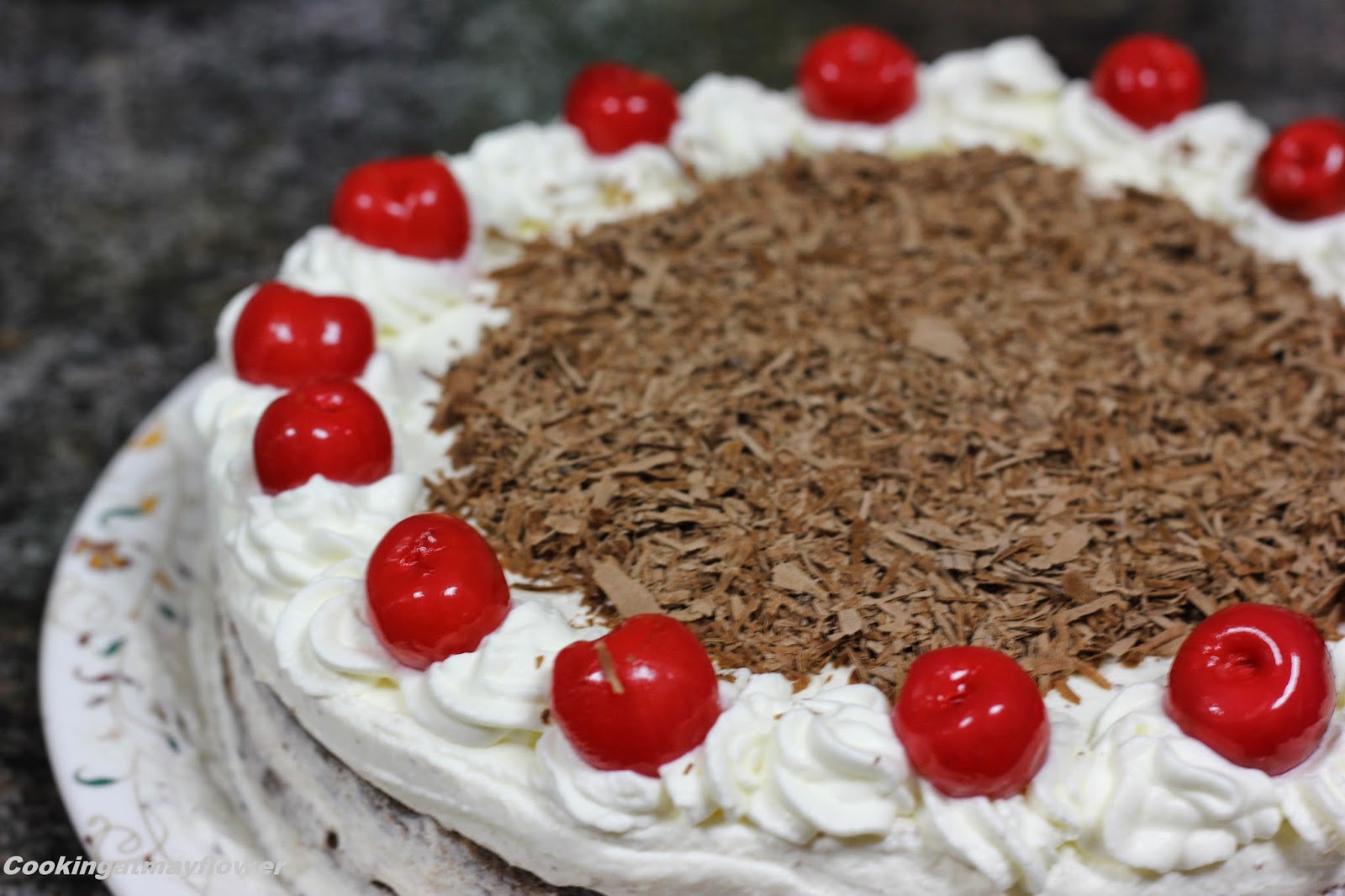 If it was Pavlova last time, this time it is a Black Forest Cake to celebrate my 400th post with 760 FB likes. Thanks to all my friends and family who encourage me to cook more each passing day.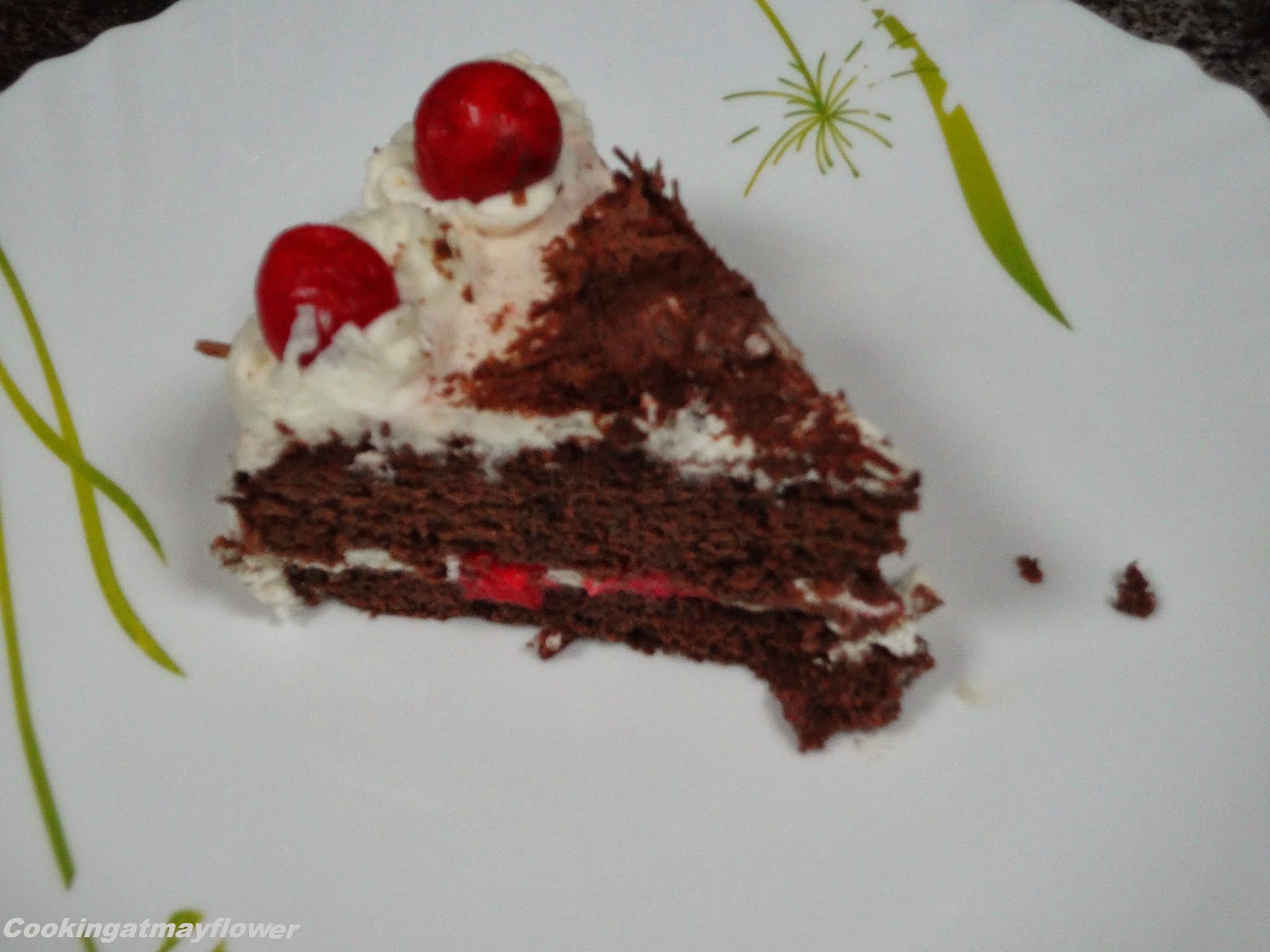 Ingredients
Butter, melted, plus extra for greasing – 85 gm
Eggs – 6 nos
Golden caster sugar -175 gm
Plain flour – 125 gm
Cocoa powder – 50gm
Vanilla essence – 1 tsp
For the filling and decoration
Double cream – 600 ml
Dark chocolate grated -150 gm
Kirsch – 4 tbsp
Pitted black cherries, drained, 6 tbsp juice reserved and cherries from 1 can roughly chopped – 2 x 425 g cans.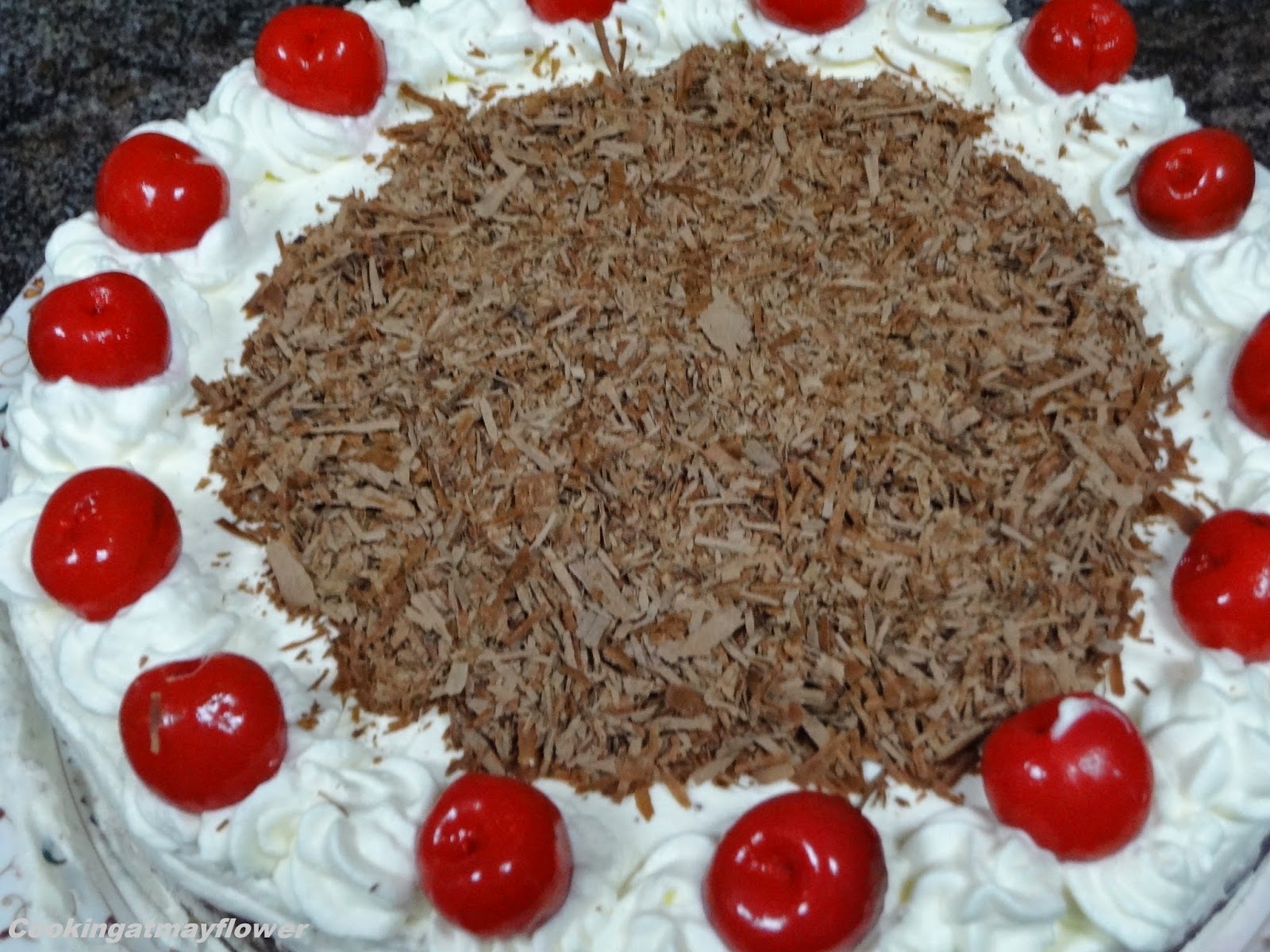 Method
Preheat the oven to 180 degrees.
Use a 9 inch springform tin.
Put the eggs and sugar into a large heat proof bowl that will fit over a saucepan.
Place the bowl over a pan of simmering water. Don't let the bowl touch the water. Whisk until the mixture is pale and thick, and will hold a trail from the beaters. Remove from the heat and whisk for another 5 minutes or until slightly cooled. Sift the flour and cocoa together, and gently fold into the mixture using a spatula.
Fold in the vanilla and butter. Transfer to the prepared tin and level the surface. Bake in the oven for 40 minutes or until risen and just shrinking away from the sides. Turn out onto a wire rack, discard the paper and cover with a clean cloth. Let it cool. Carefully cut the cake into 3 layers. Use a serrated knife and long sweeping strokes. Combine the reserved cherry juice with the Kirsch and drizzle a third over each layer.
Whip the cream in a separate bowl until it just holds shape, it should not be too stiff. Place a layer of cake on a plate. Spread with cream and half the chopped cherries. Repeat with the second sponge. Top with the final sponge, baked side up. Press down. Cover the side with a layer of cream. Put the remaining cream in the piping bag and decorate using chocolate shavings and cherries.