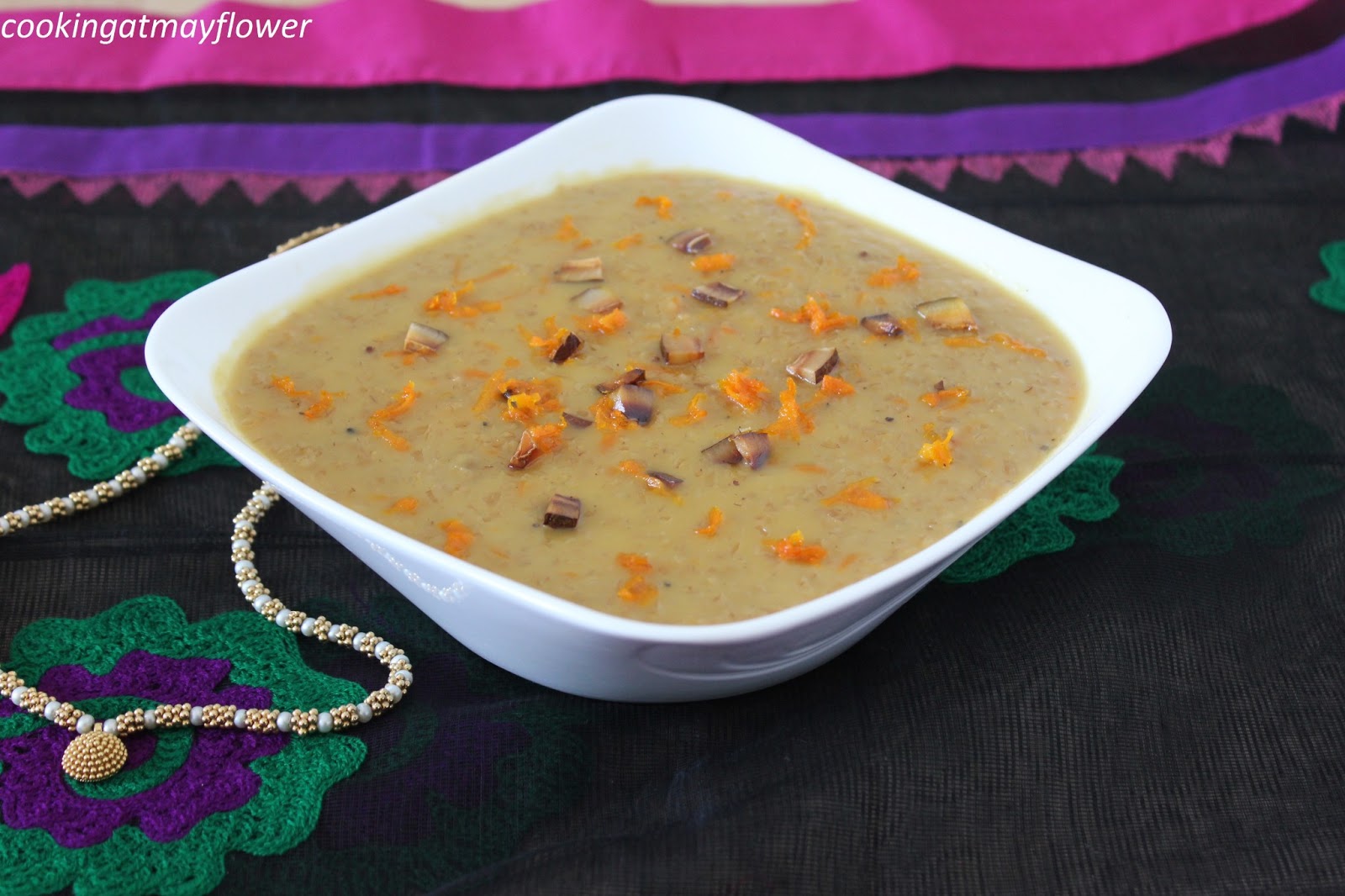 Ingredients
Broken wheat – 2 cups
Water – 5 cups
Jaggery to make thick jaggery syrup – 700 gm
Thick jaggery syrup – 3 cups
Carrot grated – 1 big
Ghee – 4 tbsp
Third extract of coconut milk – 5- 6 cups
Second extract of coconut milk – 2 cups
First extract of coconut milk – 1 – 1 1/2 cups
Coconut pieces – 2 tbsp
Cardamom powder – 2 tsp
Ginger powder (optional) – 1 tsp
Method
Wash and soak broken wheat for 1/2 an hour. Pressure cook broken wheat in 5 cups of water till 3 whistles.
Melt 700 gm of jaggery in water. Strain for any impurities. Bring the jaggery syrup back to pan and thicken it to make 3 cups of jaggery syrup.
Heat 1 tbsp of ghee in a pan, add grated carrot and saute them well to remove the water content. Heat 1 tbsp in a pan, add coconut pieces. Keep fried coconut pieces aside.
Heat a heavy bottomed pan/uruli, add 2 tbsp of ghee, add the cooked broken wheat. Saute them well. Add jaggery syrup to this. Cook them till the jaggery syrup is somewhat coated on the broken wheat (don't cook for long or don't make it too thick). Add third extract of coconut milk. When it starts to boil, add second extract milk. Now add the sauteed grated carrots to this. When it starts to boil, cook for another 3 minutes, it will start to thicken. Add first extract coconut milk at this point along with the cardamom powder and ginger powder if necessary. Switch off the stove before it starts to boil. Garnish with fried coconut pieces and some sauteed carrots. Enjoy your Vishu Sadhya.
Note:- If the payasam is too thick, add diluted coconut milk.
Adjust sweetness according to your taste.
Happy Vishu to all my blog readers and friends