Ingredients
Carrot,  cut lengthwise -250 gm
Dates, cut into small pieces- 1 /2 cup
Ginger chopped – 1/4 cup
Garlic chopped – 1 /4 cup
Chilli powder – 1 tbsp
Turmeric powder – 1/2 tsp
Asafoetida   -1 /2 tsp
Mustard powder – 1 tsp
Fenugreek/Uluva/Methi seeds – 1 tsp
Gingelly oil- 1/4 cup
Vinegar -1/4 cup
Sugar – 1/4 cup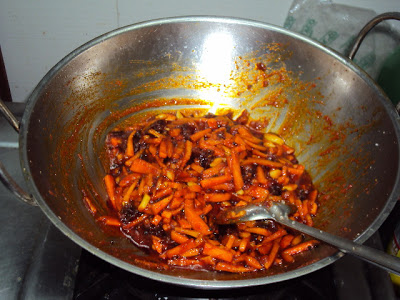 Directions
Marinate carrot with salt and keep for 1 hour.
Heat oil in a pan.  Saute mustard powder, fenugreek, garlic and ginger. Add turmeric powder, chilli powder, asafoetida and stir well. Now add dates and carrot. Stir well. Add vinegar and cook in low heat. Add sugar to this before switching off the stove.
This is a sweet and sour pickle.