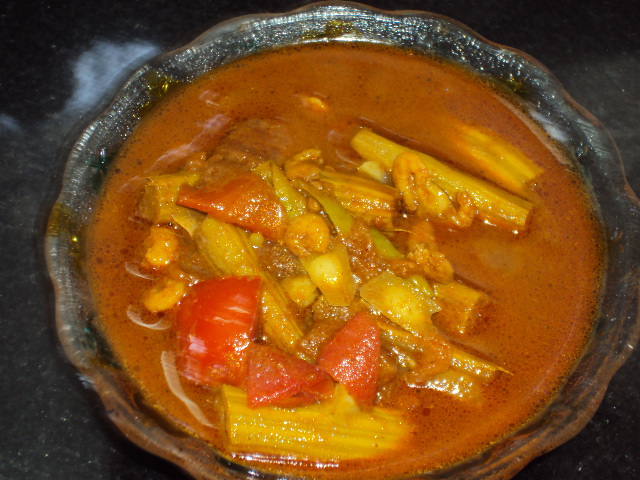 Ingredients


Drumstick – 6 nos
Tomatoes -1no
Green chilli – 2nos
Ginger chopped -1tsp
Small prawns – 1/4-1/2 cup
Tamarind – one gooseberry sized
Salt


For roast and grind


Oil – 1 tsp
Grated coconut – 1 cup
Coriander powder – 1 tbsp
Chilli powder – 1 tabs
Turmeric powder – 1/2 tsp
Shallots/ kunjulli chopped- 3 nos
Garlic – 2
Cumin seeds -1/2 tsp




For tempering


Mustard seeds -1 tsp
Curry leaves
Dry red chillies, broken – 2 nos
Small onion chopped – 5 nos
Salt as needed
Oil – 2 tbsp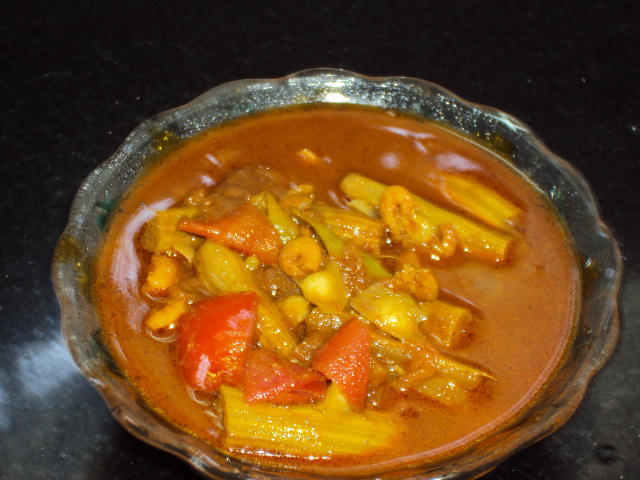 Method
Heat 1 tsp oil in a pan, fry grated coconut, garlic, shallots . When it turns brown in colour, add coriander powder, chilli powder, and turmeric powder and remove from the stove immediately. When the mixture is cold, grind it in a blender in to a smooth paste. Keep it aside.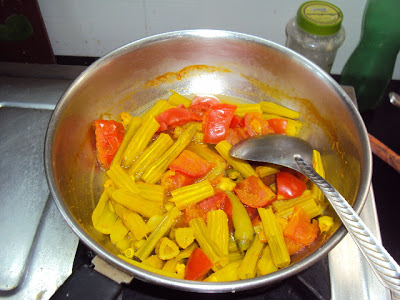 Peel and cut drumsticks in to long pieces.


In a pan add one cup of water add drumsticks,prawns, tomato, ginger, green chillies, salt and bring to boil, When it is cooked, add ground coconut mixture to this and allow it to boil for 3 -5 minutes. Now add tamarind water. When it boils, curry thickens. Switch off the stove and remove from heat.


In another pan, splutter mustard seeds, curry leaves, dry red chillies, and shallots and pour over the above curry. Serve hot with rice.