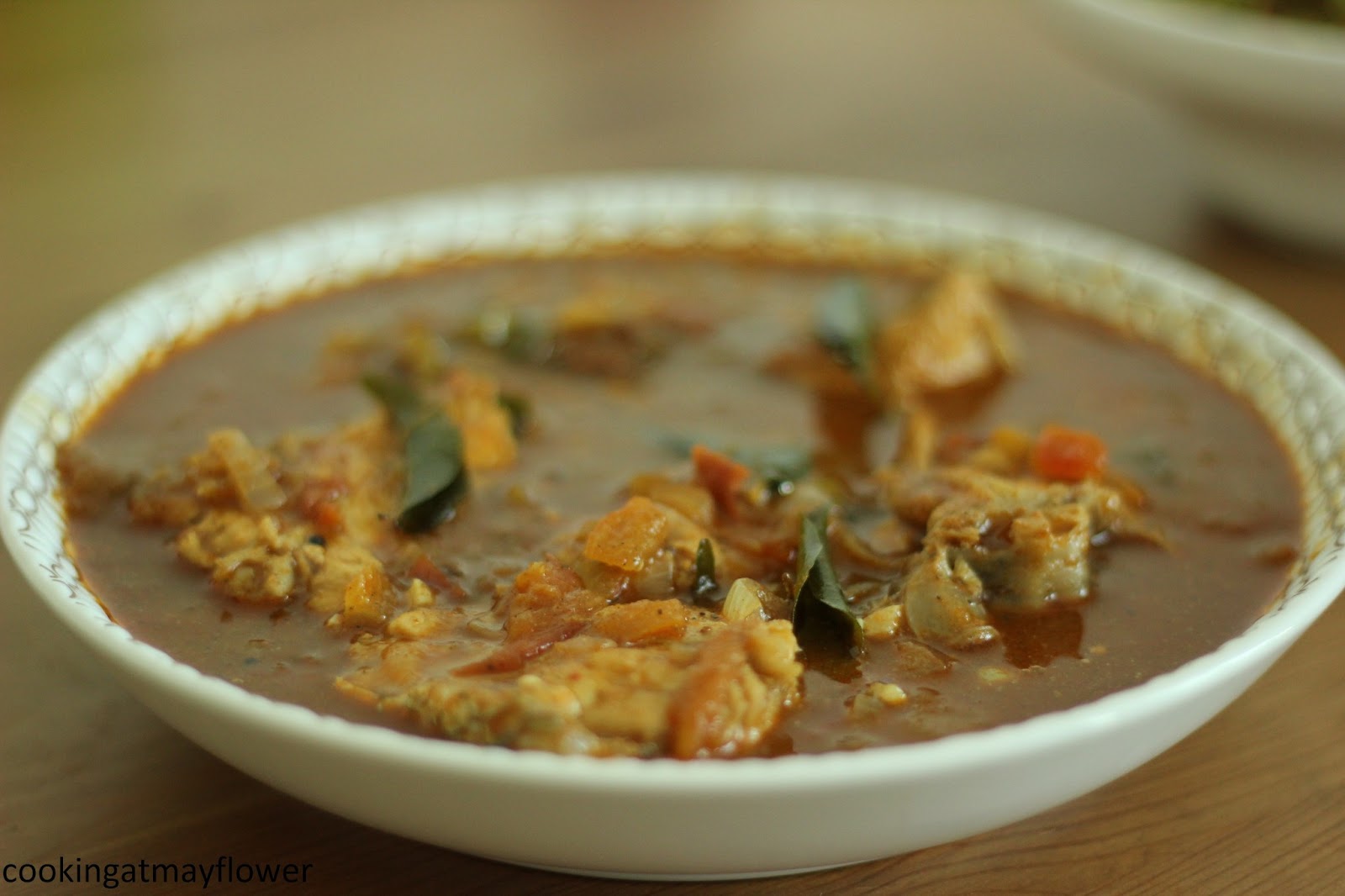 Recipe source Jays tasty appetite
Ingredients
Fish – 1 kg
Onion chopped – 2 Nos
Tomatoes chopped – 4 medium
Garlic chopped – 10 pods
Green chillies, slit – 2 Nos
Tamarind – a small lemon sized
Mustard seeds – 1/2 tsp
Urad dal – 1 tsp
Red chilli powder – 1 1/2 tsp
Turmeric powder – 1/4tsp
Curry leaves
oil
Dry roast and grind
Dry red chillies – 2 tsp
Coriander seeds – 4 tsp
Pepper – 2 tsp
Fenugreek seeds – 1 tsp
Cumin seeds – 1 tsp
Fennel seeds – 1 tsp
Toor dal – 2 tbsp
Curry leaves
Method
Dry roast dry red chilli, coriander seeds, cumin seeds, fennel seeds, fenugreek, pepper, toor dal, and curry leaves. Now grind them. Keep the ground paste aside to use later in the curry.
Soak tamarind in water to extract tamarind water and set aside.
Clean and cut fish into pieces. Heat oil in a pan, splutter mustard seeds, urad dal and curry leaves. Now add onion. Cook till translucent. Add garlic and green chillies. Saute for a minute. Add chopped tomatoes and cook them till they get mashed up. When the oil starts to float on the surface, add turmeric powder, red chilli powder, salt and ground paste. Saute them well. Now add tamarind water. Add 2 cups of water. Mix well. When it starts to boil, add fish pieces. Close the lid and cook for 5-10 minutes. When the fish is cooked and the oil appears on top, switch off the stove. Serve hot with rice and chapathi.