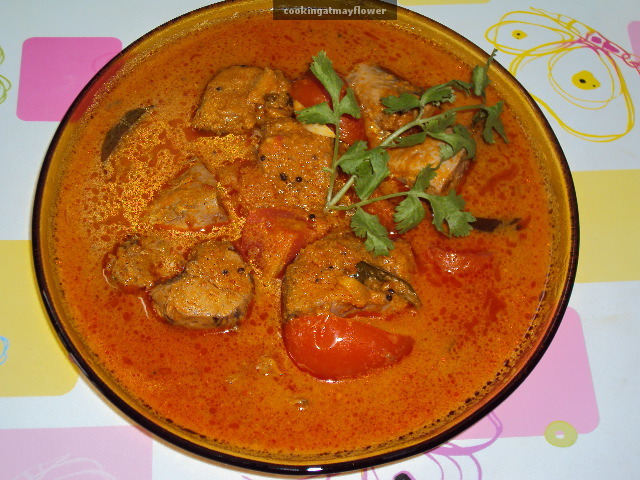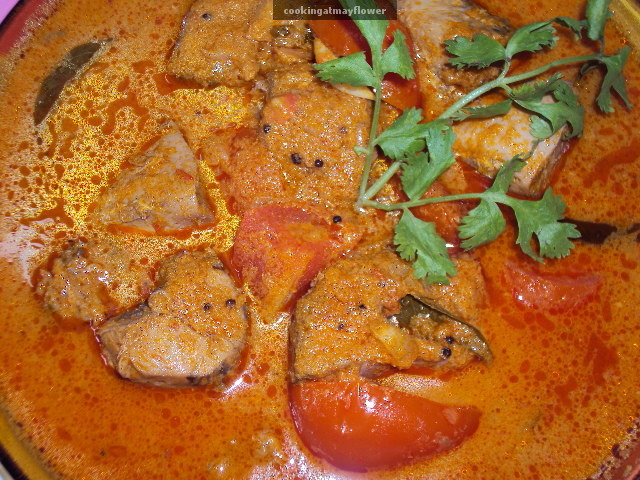 Fish – 1 kg
Tamarind (valanpuli) – one lemon sized ball
Turmeric powder – 1/2 tsp
Coriander leaves
Salt to taste
Tomato – 1 no: (just to add and not to grind)
Curry leaves
TO GRIND:
Coriander powder – 2 tsp
Chilli powder – 4 tsp
Fennel seeds (perinjeerakam) – 1 tsp
Coconut – 1/2 cup
TO SAUTE AND GRIND:
Tomato chopped – 2 nos
Onion chopped – 1 no
Oil – 1 tsp
TO SEASON:
Mustard seeds – 1 tsp
shallots – 1/4 cup
Garlic – 8 cloves
DIRECTIONS:
Soak tamarind and sieve the tamarind water. Cut fish into pieces.
Heat oil in a manchatti/earthern pot, crackle mustard seeds. When they start to pop up, saute shallots, garlic and curry leaves. When the shallots starts to turn brown in colour, add the ground ingredients from (TO GRIND). Saute them well. Now add ingredients from (TO SAUTE AND GRIND). Now add chopped tomatoes. Now add water as required, tamarind water, salt, fish pieces and keep them for 5 minutes in high heat. When it starts to boil, lower the heat and cook for another 10-15 minutes depending on the fish you are using. Decorate with coriander leaves.
This fish curry has a thick and creamy gravy and Kingfish goes well with the curry.