Ingredients
Basmati – 1 kg
Chicken – 1 kg
Onion, sliced – 750 gm
Tomato, chopped – 2 big
Chilli, smashed – 20
Garlic, smashed – 1½ tbsp
Ginger, smashed – 1½ tbsp
Coriander powder – 2 tsp
Turmeric powder – ½ tsp
Mint leaves, chopped – 1 dessert spoon
Coriander leaves, chopped – 3 tbsp
Garam masala powder – 2 tsp
Lemon juice – 2 tbsp
Salt – as needed
Ghee
Oil
Boiled water – 10 cups
Cardamom powder – ½ tsp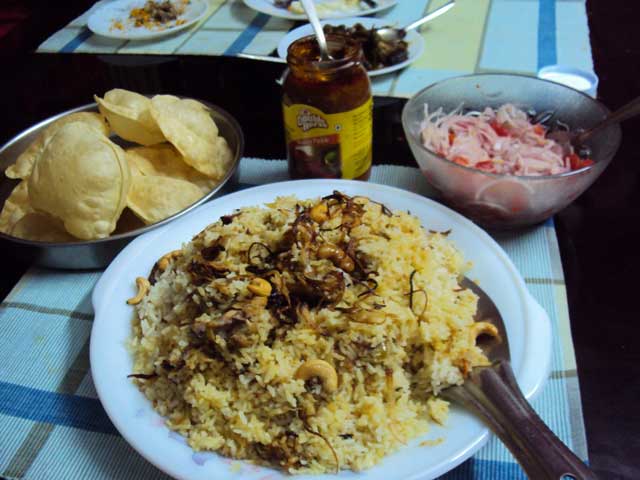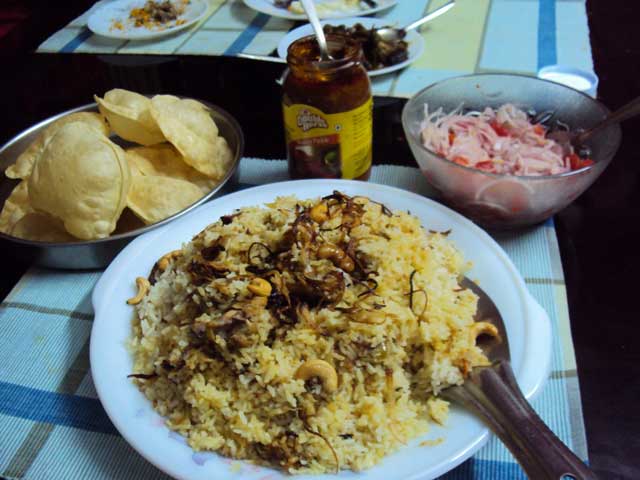 Instruction
Heat 1 tablespoon of oil in a pressure cooker. Reserve two sliced onions for later use. Saute rest of the onions along with salt. Now add 5th ingredients and tomato, sauté for 5 minutes. Add coriander powder, turmeric powder, salt and chicken pieces and cook. When it is cooked, add ½ garam masala powder, ½ coriander leaves, 1½ tablespoon lemon juice and mix well.
Heat thick bottom vessel, add chicken pieces, ½ of the gravy from the pressure cooked chicken and reduce. Add rest of the lemon juice and ½ of the garam masala to the reserved chicken gravy.
In a thick bottom vessel, add oil and ghee, brown the onions. Save this for later use. Now add basmati rice and fry. Add boiled water and when boiling well, add cardmom powder, mint leaves , and salt as needed. Slow the fire, stir occasionally. When the rice is ready add the chicken gravy to this.
Layering:
Layer the rice to the chicken masala prepared before.
Layer browned onion, coriander leaves. Now add rest of the rice.
Now close the vessel and put it in dum.
Chicken biriyani is ready to be served.