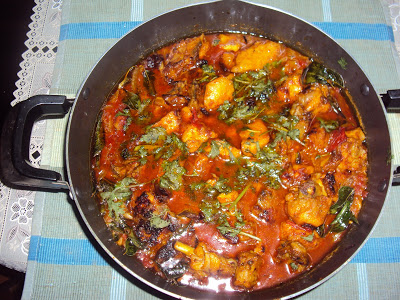 Chicken curry that is very easy to cook and tasty too.
INGREDIENTS
Chicken – 1 kg
Onion, chopped – 4
Tomato, chopped- 4
Red  chilli powder -5 tsp 
Fennel powder – 1 tsp
Turmeric powder- ½ tsp
Salt to taste
Oil – ½ cup
Garlic, crushed – 1 tsp
Curry leaves
INSTRUCTION
In a pressure cooker, add chicken, onion, tomato, red chilli powder, fennel powder, turmeric powder and salt. Mix well.
Cook until one whistle.
Remove chicken pieces from the pressure cooker. Keep aside the masala in pressure cooker.
Deep fry the chicken pieces till golden brown. Keep aside.
In the remaining oil, saute garlic and curry leaves. Transfer masala from the pressure cooker and it to frying pan. Saute well.
Finally, add fried chicken pieces.  Saute well until all the chicken pieces are coated with the fried masala.
Serve hot with chapati or paratha.