Ingredients


Chickpeas – 1 cup
Yam – 2 cups
Grated coconut – 1 cup
Fennel seeds- 1/2 tsp
Peppercorn – 1/2 tsp
Coriander powder – 1 tbsp
Chilli powder – 2 tsp
Turmeric powder – 1/4 tsp
Small onion – 1/2 cup
Garlic paste – 1 tsp
Ginger paste – 1 tsp
Mustard seeds – 1 tsp
Red chillies – 3 nos
Curry leaves
Salt
Oil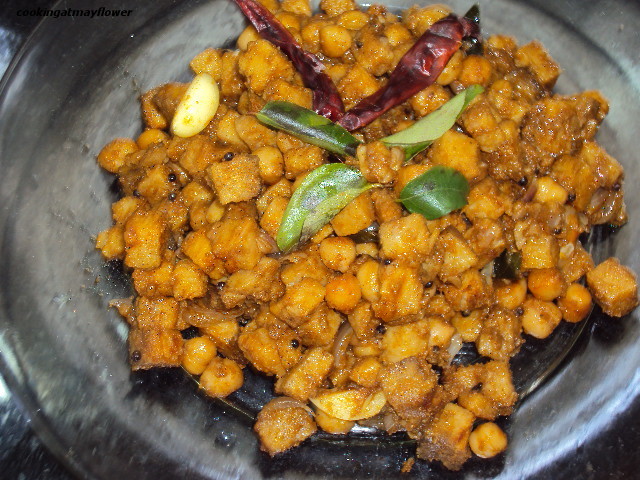 Method


Soak chickpeas overnight. Cook chickpeas along with salt. Cut yam into pieces and cook this along with some water and salt.


Heat oil in a pan, add grated coconut, fennel seeds, peppercorn and fry them till the coconut turns brown in colour. Add turmeric powder, chilli powder, and coriander powder and when it starts to get hot, turn off the stove immediately. Grind the above and keep aside.


Heat oil in a pan, splutter mustard seeds. Add ginger garlic paste, small onions, red chillies, curry leaves and when the onion starts to change colour, add the ground masala along with some water (little). Now add cooked chickpeas and yam. When the gravy starts to thicken, adjust the salt, switch off the stove and serve hot.