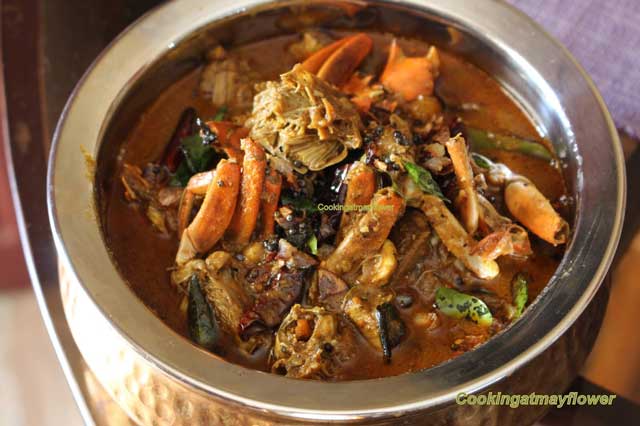 Crab in roasted coconut gravy is one of the many delicious seafood recipes from Kerala.
if you like crab, try cooking the following recipes.
Crab masala
Crab Vattichu Ularthiyathu
Ingredients
Crab, clean and cut in to medium pieces – 4 big crabs
Shallots, crushed- 1/4 cup
Ginger, crushed- 1 tbsp
Garlic, crushed – 1 tbsp
Gree chilli, slit – 2 nos
Cambodge/ kudampuli- 3 -4 pieces
Turmeric powder- 1/2tsp
Chilli powder- 1/2 tsp
Pepper powder – 1 tsp
Curry leaves

Roast and grind for coconut masala
Grated coconut – 1 cup
Shallots, chopped – 1 tsp
Curry leaves – 2 sprigs

Coriander powder- 1 tbsp
Chilli powder – 1 1/2 tsp
Peppercorns – few
Fennel seeds/ perumjeerakam- 1/4/tsp
Cloves-2 nos
Cardamom – 1
Cinnamon – 1/2 inch piece
For tempering
Coconut oil- 2 tbsp
Mustard seeds- 1 tsp
Shallots, chopped- 2 tbsp
Dry red chillies- 2 nos
Curry leaves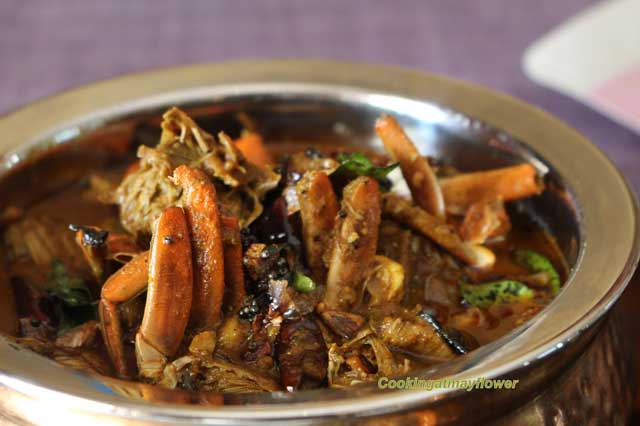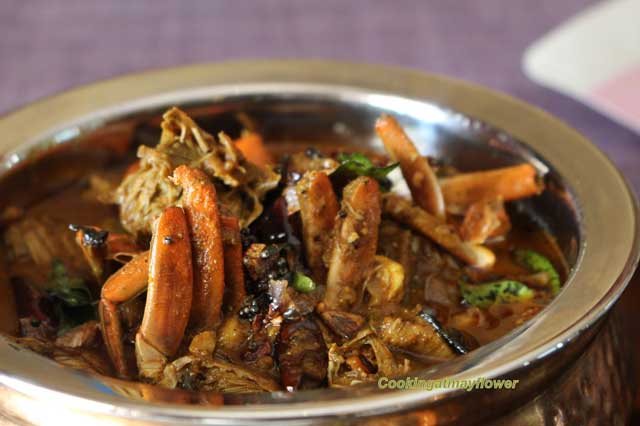 Method
Wash and soak kudampuli in 1/2 cup of water for 15 minutes.
In a pan, heat 2 tsp oil. Add grated coconut, shallots ,curry leaves, pepper corns, fennel seeds, cloves,cardamom and cinnamon. Saute on a medium flame till the coconut turns brown. Add coriander powder, chilli powder and turmeric powder, saute and switch off the stove. Allow this to cool and grind this with small amount water to a smooth paste. Keep this aside.
In an earthen pot (manchatti), add crab pieces, crushed ginger, garlic, shallots, green chilli,curry leaves, turmeric powder, chilli powder, pepper powder, kudampuli ,salt and small quantities of water. Cook for 5- 8 minutes.

Add ground paste. If needed add some more water to reach the desired consistency. Mix well.
Close with a lid and cook for 5 minutes.
Heat oil in a kadai. Splutter mustard seeds, dry red chillies, curry leaves and shallots.
When shallots turn light brown in colour, pour this on to the crab masala.
Serve hot with rice or appam.