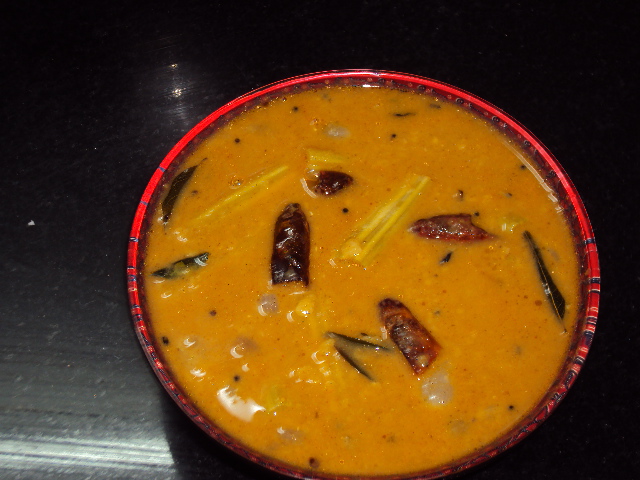 Ingredients
1. Toor dal – 1 cup
2. Shallots – 1 cup
3. Drumsticks – 1 cups
4. Coconut oil – 1 tbsp
Coriander powder – 1 tbsp
Chilli powder – 1 tbsp
Turmeric powder – 1/2 tsp
Asafoetida – 1 tsp
Urad dal – 1 tsp
grated coconut – 1 cup
5. Tamarind as needed
6. Salt as required
7. Dry red chillies – 2 slit
Mustard seeds – 1 tsp
Curry leaves – 2 sprigs
Coconut oil – 1 tbsp
8. Coriander leaves chopped – 1 tbsp
Directions:
Pour 1 tbsp oil in a pan. Add urad dal and grated coconut. Saute well till light brown in colour. Now add coriander powder, chilli powder, turmeric powder, and asafoetida. Switch off the stove. Grind this to a smooth paste using a blender. Keep this paste aside.
Cook toor dal well. Now add drumsticks and shallots to this, allow it to cook. Now add tamarind, water and salt. When the drumsticks are cooked well, add the ground paste. When sambar starts to thicken, switch off the stove.
Heat oil in a pan, splutter mustard seeds, dry red chillies, and curry leaves. Pour this over the curry. Decorate with chopped coriander leaves.