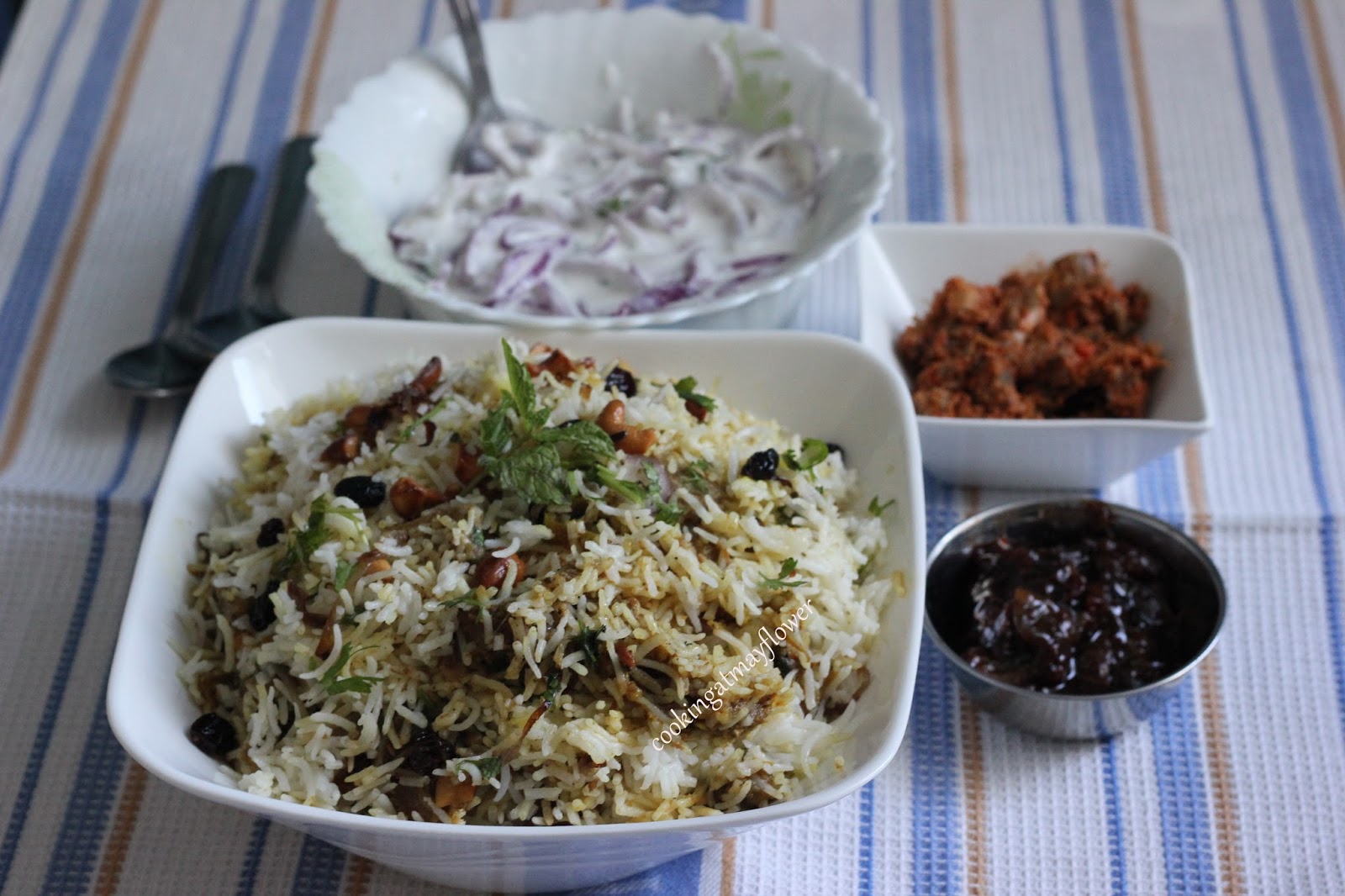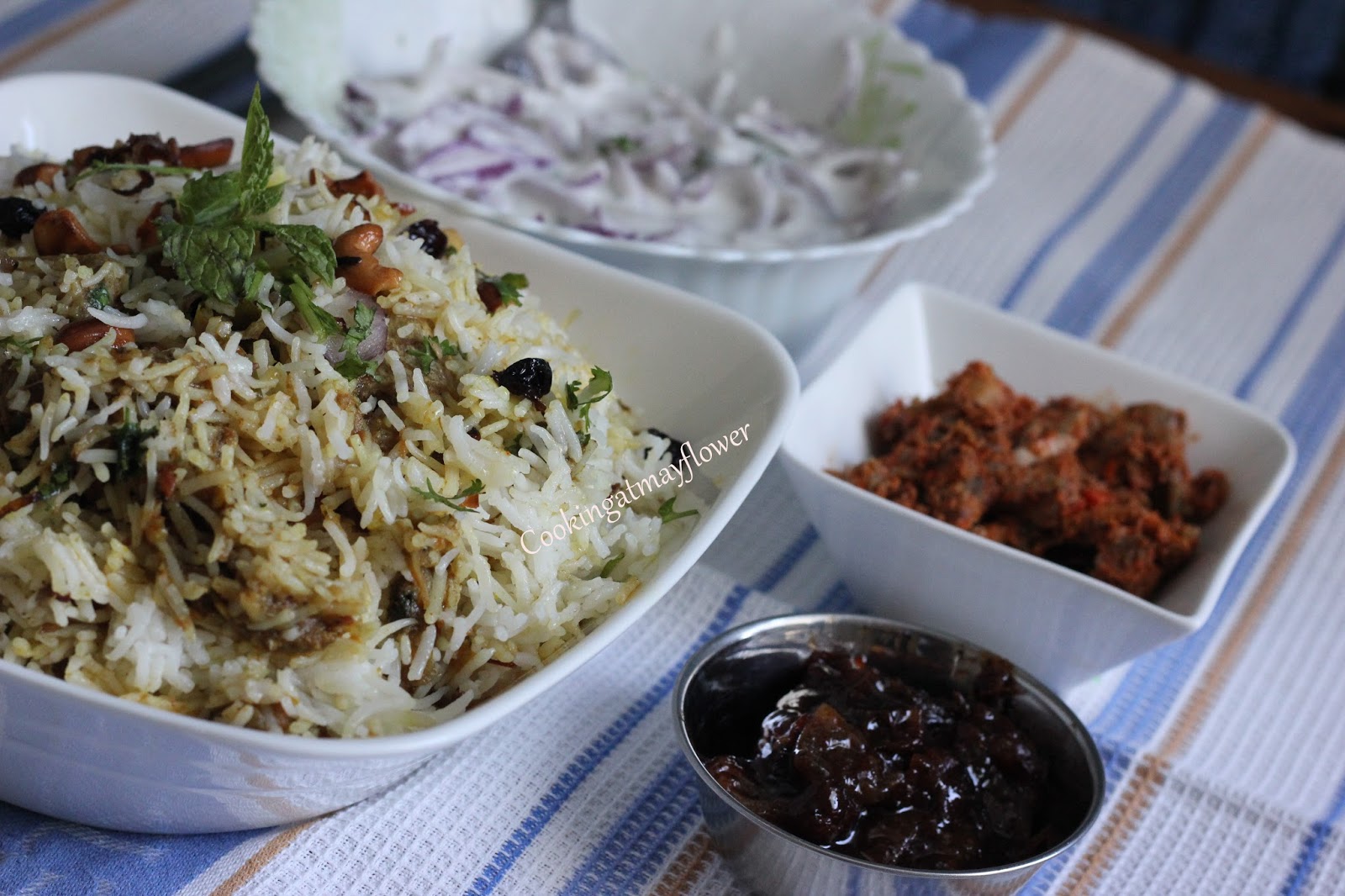 Ingredients


For rice


Biriyani rice – 3 1/2 cups
Ghee – 1/2 cup
Cinnamon – 1 piece
Cloves – 6 nos
Cardamom – 6 nos
Salt as needed
Water – 7 cups


Method


Wash and soak biriyani rice in water for 10 minutes. Drain and allow it to dry.
Heat ghee in a nonstick pan. Splutter cinnamon, cloves and cardamom. After this, add rice and saute for 5 minutes. Add salt and 7 cups of boiling water to the rice. Cover and cook until rice has cooked well and the water is completely absorbed.


For Beef masala


Beef / Mutton – 1 kg cut in to 2 inch pieces.
Oil – 1/2 cup
Ginger garlic paste- 4 tbsp
Onion, thinly sliced – 2 big
Green chilli, slit – 10 nos
Tomatoes, sliced – 2 nos
Chilli powder 1 1/2 tsp
Turmeric powder – 1/2 tsp
Garam masala powder – 1 tsp
Coriander leaves, chopped – 100 gm
Mint leaves – 50 gm
Curd – 1/4 cup
Salt as needed


Method


Heat oil in a pressure cooker. Saute ginger garlic paste. Add onion, green chilli and saute well. When the onion turns translucent, add tomatoes and mix well. When the tomatoes are mashed, add chilli powder, turmeric powder, and garam masala. Saute well. Add coriander leaves, mint leaves, curd and salt. and saute well . Add beef pieces and mix well. Add 1/2 cup of water and close the lid. Cook well Remove pressure cooker from heat. After some time, Open the lid of the cooker. There will be some gravy in the masala. Place the cooker over high heat and cook till the gravy in the beef masala thickens. Do not make the masala too dry.




For garnishing


Ghee -2 tbsp
Cashew and raisins- 2 tbsp
Onion sliced, thinly and fry golden brown-2 nos
Garam masala- 1 tsp
Chopped coriander leaves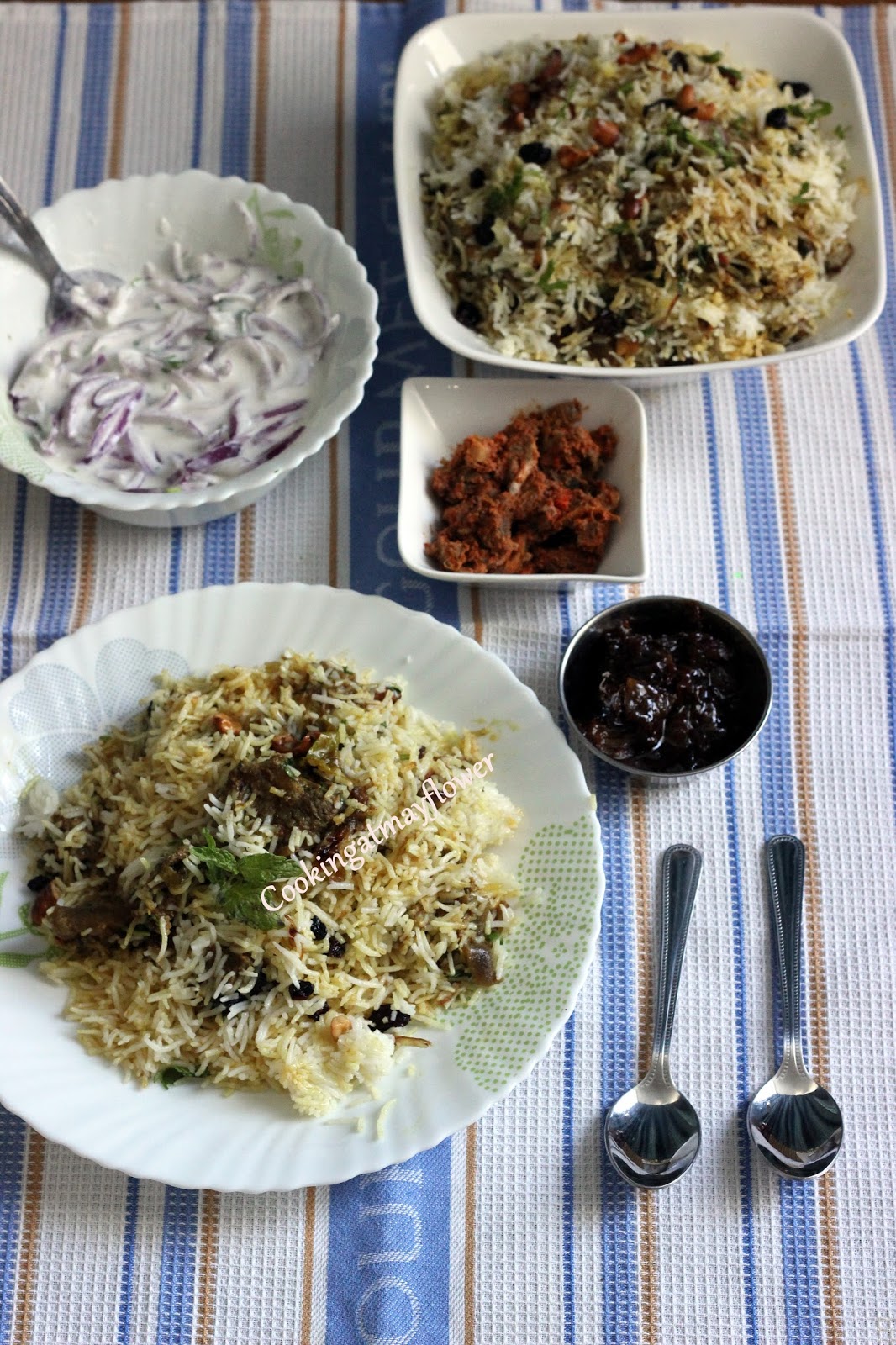 Method


In a non stick pan, pour ghee.Spread half portion of beef masala, then add half portion of rice, half portion fried onions, nuts, coriander leaves and garam masala powder. Repeat the process again. On top add remaining garam masala powder, onion and nuts. Close the lid and cook for 5 – 10 minutes in low heat.


Switch off the stove. Serve hot with curd onion raitha and pickle.