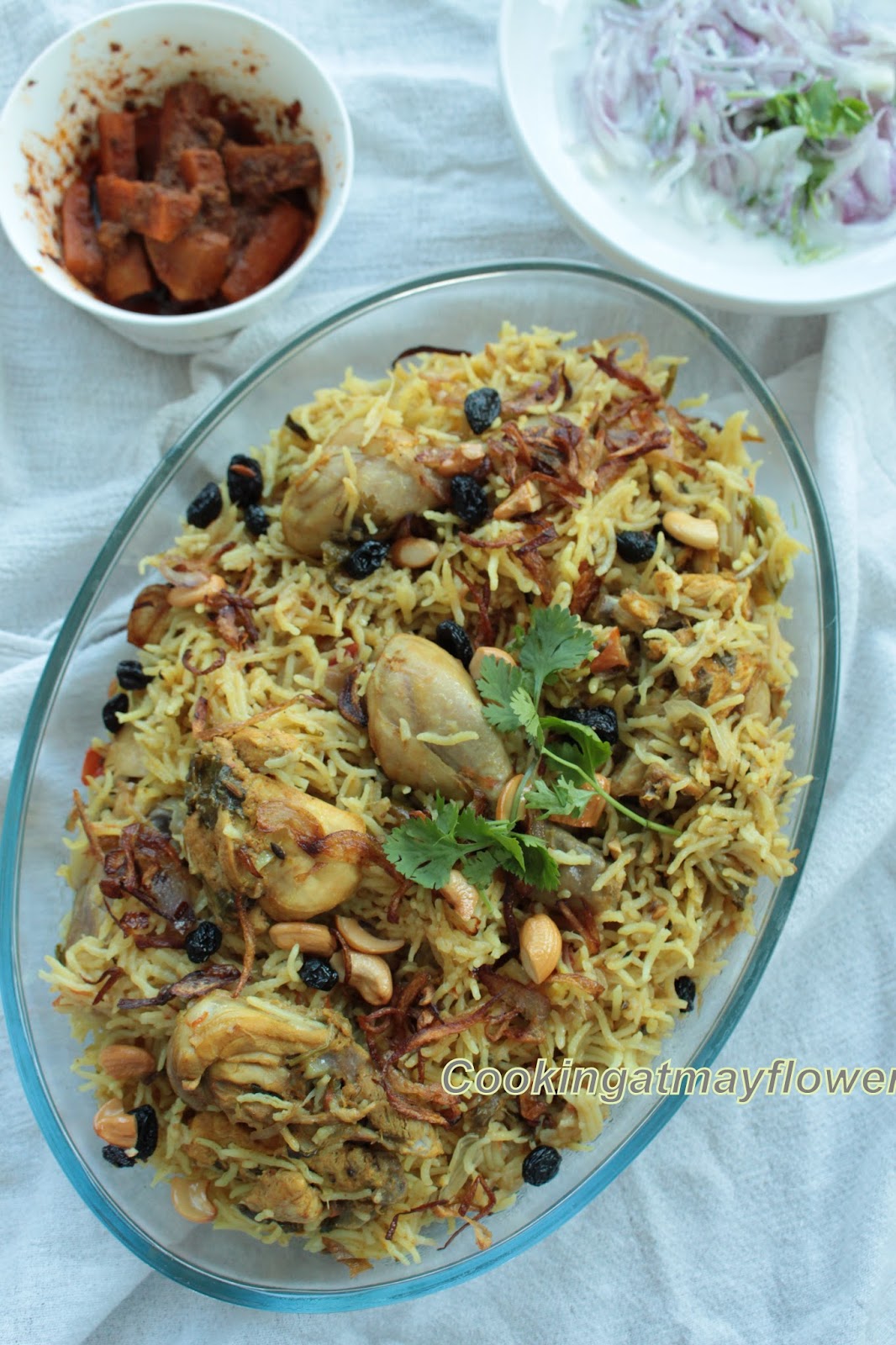 Garam masala powder – 1 tsp
Coriander leaves, chopped – 2 tbsp
Mint leaves, chopped – 1½ tbsp.
Freshly squeezed lime juice – 2 tsp
Onion, sliced – 2 1/2 cups
Coriander, chopped – 4 tbsp
Garlic, crushed – 1½ tbsp.
Method



Soak basmati rice in water for 10 minutes. Drain and allow it to dry.


Marinate chicken with lemon juice, ginger paste,garlic paste, coriander powder, turmeric powder, chilli powder,garam masala powder , coriander leaves, mint leaves and salt . Mix well and keep it for at least 1/2 an hour.


Heat oil in a pressure cooker. Deep fry cashew nuts and raisins. In the remaining oil, add half portion of onion and fry until golden brown. Keep a side for garnishing.




In the remaining oil, add cinnamon pieces, cardamom, cloves , bay leaves and fennel seeds. Add ginger garlic paste and green chillies. saute well. Add remaining onion and saute well. when onion turns translucent, add tomato and cook till is all mashed . Now add marinated chicken to it and mix well. Pour 3 1/2 cup of boiling water to the chicken masala, adjust salt and allow it to boil.


Transfer drained rice to the boiling chicken masala . Add coriander leaves, mint leaves half portions of fried onion, lemon juice rose water and ghee. Cover the lid and allow it to cook for 2 whistles. When the pressure is released, open the lid, Flip it to a large serving tray.


Mix the rice gently, sprinkle on top remaining fried cashew nuts, raisins and onions.
Garnish with chopped coriander leaves. Serve hot with pickle, raita , pappad etc.