INGREDIENTS
Rice flour (puttu podi) – 2 cups
Minced meat – 200 gm
Grated coconut – 1 cup
Onion, chopped – 2 cups
Green chilli, chopped – 4
Coriander leaves, chopped – 2 tsp
Garlic paste – ½ tsp
Ginger paste – ½ tsp
Coriander powder – 1 tbsp
Chilli powder – ½ tsp
Turmeric powder – ¼ tsp
Garam masala powder – ¼ tsp
Oil – 2 tbsp
Salt – as needed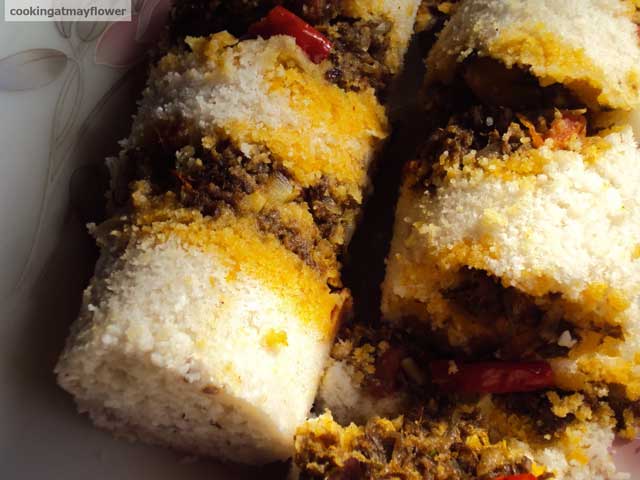 INSTRUCTIONS
In a bowl, add rice flour, grated coconut, and salt. Mix with hands so that lumps don't form.
Heat oil in a pan. Saute onion and green chillies. Add ginger and garlic paste. When the raw smell is no more, add meat, coriander powder, chilli powder, turmeric powder, garam masala powder, salt, and coriander leaves. Mix well. Add ½ cup of water and cook. When meat is well cooked and water is no more, switch off the stove and keep them aside.
Using puttu maker, start layering the prepared mixture. Add one handful of rice flour mixture, then add 3 tbsp of cooked meat mixture, then again flour, 3 tbsp of cooked meat mixture till the puttu maker is full. Now steam the mixture. Cook till the puttu is perfectly done.
Serve hot.