This makes an excellent snack or breakfast with the goodness of coconut milk, rice flour, and ripe plantain. It's a simple recipe using less ingredients.

Ingredients
Grated coconut (to make coconut milk) – 2 cups
Ethapazham/Nenthrapazham/Ethakka – 2 Nos.
Rice powder – 2 cups
Thick coconut milk – 1/2 cup

Thin coconut milk – 3 to 3 1/2 cups
Salt – As needed
Sugar – 2 tablespoons Cardamom, powdered – 2-3 Nos.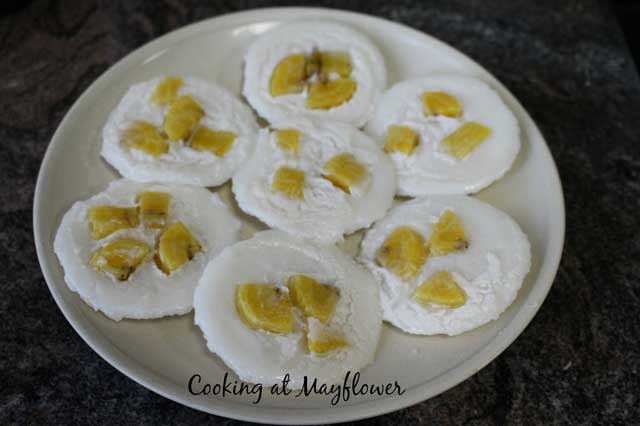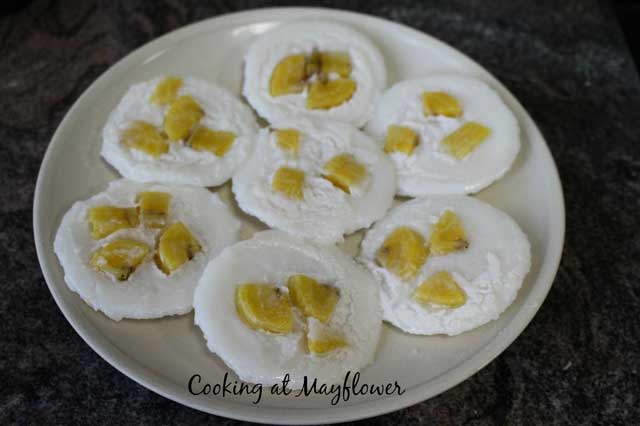 Instruction
Prepare the batter by mixing rice powder, sugar, and salt. Now add thin coconut milk. Mix the batter without any lumps. To this add, powdered cardamom. Mix well. Now appam batter is ready. The consistency of batter is watery as shown in the video.
Peel and chop banana. Set this aside.
Grease a steel plate with oil. Pour the watery batter into the plate. Add chopped banana on top. Pour thick coconut milk on top with the help of a spoon.
Transfer the batter filled plate on to a steamer. Steam for 15-20 minutes. After 15-20 minutes, insert a toothpick or pointy side of the knife to check if the appam is cooked.
When appam is cooked, it will have a soft pudding like consistency. Remove the plate from the steamer and allow it to sit undisturbed for 5-10 minutes. This helps to set the appam. After 10 minutes, when appam is set, run the knife through the sides of appam. Cut and serve.