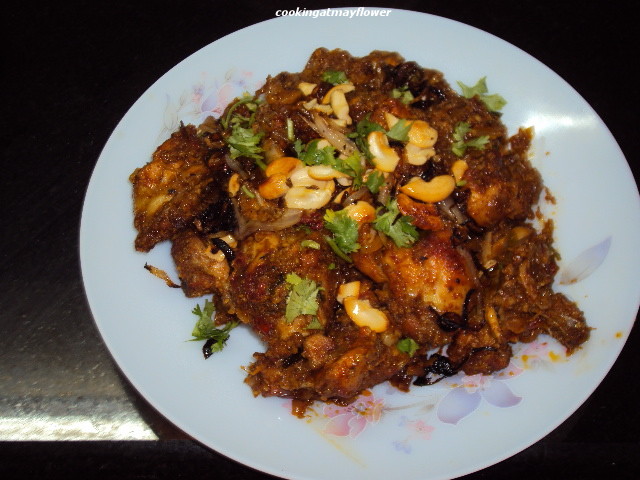 This is a very rich dish with nuts, raisins, and pineapple. It can be prepared very fast and tastes delicious also.


Ingredients
1) Chicken -1 kg (cut chicken into 6 pieces)


2) To marinate
Lime juice – juice of 1 lime
Chilli powder – 11/2 tsp
Pepper powder -1 tsp
Garam masala powder – 1 tsp
Salt


3) Shallots – 1/4 kg
Ginger paste – 1 tsp
Garlic paste – 1 tsp
Tomato chopped- 3 nos
Curd -1/2 cup
Turmeric powder – 1/2 tsp
Coriander leaves
Mint leaves
Coconut – 1/2 cup
Poppy seeds – 1 tbsp
Chopped pineapple – 1/4 of a pineapple
Onion – 1 no
Cashew nuts – 1/4 cup
Raisins – 2 tbsp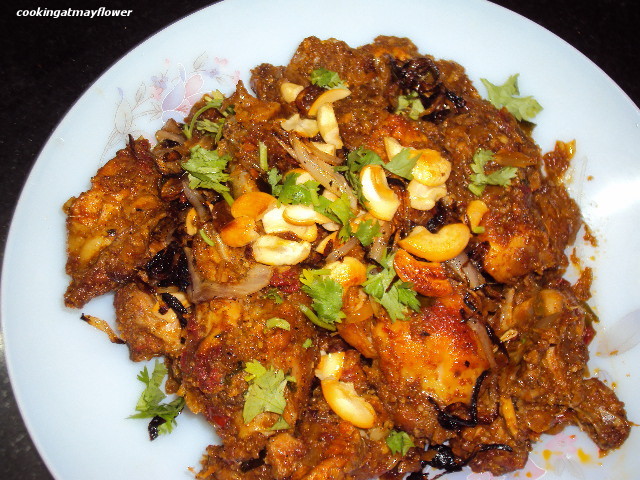 Directions
Marinate chicken using the above ingredients (To marinate) for half an hour. Fry the chicken in medium heat and keep aside


Heat oil in a kadhai, saute shallots, ginger, and garlic paste. When it turns brown, add tomatoes. When tomatoes are all mashed up, add fried chicken and curd to it, followed by coriander leaves, mint leaves, turmeric powder, and salt. Close the lid and let it cook for 5 minutes.


Dry roast coconut and poppy seeds and grind them lightly in the mixie. Add this powder to the above curry. Now add chopped pineapple, fried onions, fried cashewnuts, and raisins. Decorate with coriander and mint leaves.