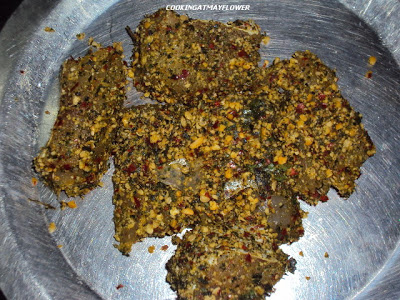 1st ingredients
Kadalaparippu/split peas – 1/2 cup
Red chillies – 12-15
Curry leaves – 2 cups
2nd ingredients
Turmeric powder – 1 tsp
Sugar – 1 tsp
Asafoetida – 1 tsp
lemon juice – 1 tbsp
Salt as needed
3. Fish pieces – 1/2 kg
4. Oil as needed for frying.
Dry roast 1st ingredients one by one (not together). Don't make it too brown. Now grind the 1st ingredients together coarsely. Mix 2nd ingredients together. Marinate fish pieces using 2nd ingredients. Now coat the fish pieces with the coarsely ground mixture from 1st ingredients. You should cover the entire fish well with this mixture.
Heat very little oil in a pan, put fish pieces for fryin and close the lid.
If any leftover marinade is there, preserve it in glass jars for later use.
This fish curry leaves fry is best served hot with salads.
Any meaty fish will work best for this recipe. I used Sherry fish for this recipe.
This post is going to EP series hosted by Julie @ Erivum Puliyum