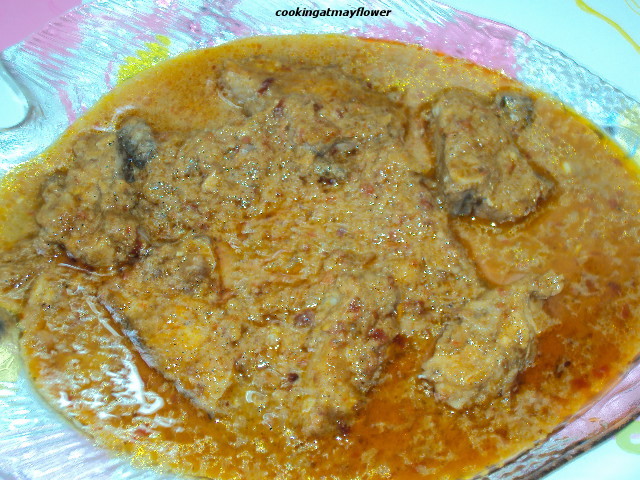 Ingredients


1) Fish pieces-8nos
Dry Red chillies -1 /2cup
Small onion- 1 /4cup
Cumin seeds -1 /4tsp
Ginger – 1inch piece
Garlic – 6 cloves
Turmeric powder- 1 /4tsp
fried and ground coconut paste – 3 tbsp
Vinegar, salt – as needed
Tamarind- 1tsp
Coconut milk-3 /4cup


Method


Cut fish into 1.5 x 1.5 inches. Grind shallots and keep them aside. Grind ginger and garlic and keep them aside. Remove the seeds from the dry red chillies. Grind dry red chillies, cumin seeds, tamarind, turmeric powder. Heat oil in a pot, saute the ground shallots. Next add the ground ginger garlic mixture. Next add the ground dry red chilies, cumin seeds, tamarind, and turmeric powder mixture. Add cut fish pieces, salt, vinegar, and 3/4 cup water. Close the lid and allow it to cook. When the fish is half cooked, add the fried ground coconut paste along with little water and add it to the fish curry. Just before the curry is about to be taken from the stove, add coconut milk and let it lightly boil and thicken. Remove from stove and serve goan curry along with rice or chapathi.