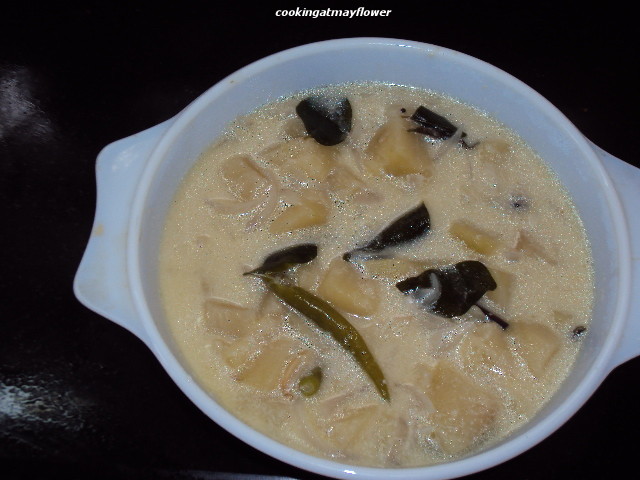 A tasty stew with bread fruit in kerala style. Bread fruit provides high energy. The fibre present in breadfruit flushes out toxins from the intestine and helps in proper functioning of the bowels and intestine.
Ingredients
Kadachakka cut into cubes – 2 cups
Onion thinly sliced – 1 small
Green chilli – 5 nos
Ginger chopped – 1 tsp
Garlic – 6 cloves
Cardamom – 4 nos
Cinnamon stick – 2 pieces
Cloves – 4 nos
First extract of coconut milk – 1/2 cup
Second extract of coconut milk – 2 cup
Mustard seeds – 1 tsp
Oil as required
Curry leaves
Salt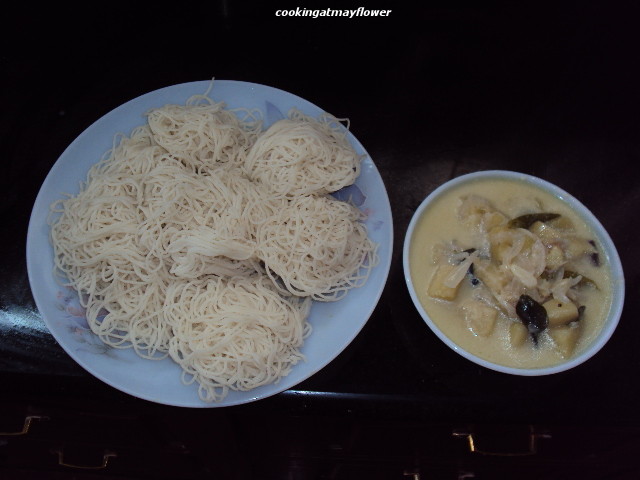 Directions:



Cook kadachakka using little water and salt.. Heat oil in a pan, allow mustard seeds to splutter. Add cardamom, cinnamon, and cloves and allow it to splutter. Saute sliced onion, green chilli, ginger, garlic, and curry leaves. Add second extract of coconut milk and cooked kadachakka. Reserve 1-3 pieces of cooked kadachakka for later use. Add salt. Mix well and allow it to simmer for 5 minutes. Now add the reserved kadachakka pieces by mashing it to the above stew. Now add the first extract of coconut milk and off the stove before it starts boiling. Serve with idiappams and appams.