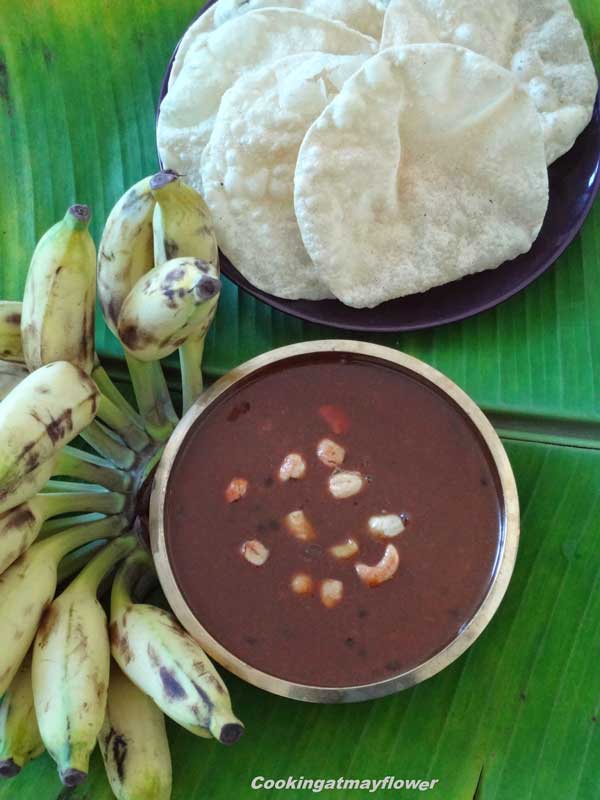 Ingredients
Chana dal / Kadala Parippu – 250 gm
Jaggery / Sharkara – 500 gm
Water – 3/4 cup
Thick coconut milk – 1 cup
Thin coconut milk – 3 1/2 cups
Sago / Chavvari – 1/2 cup
Ghee – 2 tbsp
Cardamom powder – 1 tsp
Ghee – 2 tbsp
Cashewnuts – as needed
Raisins – as needed
Instructions
Wash chana dal in 3-4 changes of water. Pressure cook chana dal by adding 2 cups of water. Cook until 4-5 whistles.
Break jaggery into small pieces. In a pan, add jaggery and ¾ cup of water. Place the pan on stovetop and allow jaggery to melt. Mix well once jaggery is melted to ensure that no lumps remain.
If you are using fresh coconut, grate coconut. Squeeze out thick coconut milk and thin coconut milk.
Wash sago. Soak sago in water for 1 hour.
When chana dal is cooked, mash dal with the back of a spoon.
Heat ghee in a nonstick pan or uruli. When ghee is hot, add cooked chana dal. Saute cooked dal for 2-3 minutes on medium heat. Add jaggery syrup. Use a strainer while adding syrup, so that dirt settles on to the strainer. Now, mix dal and syrup to combine. Stir continuously while cooking until the mixture thickens. When mixture thickens, add thin coconut milk. Mix well. Add sago. On medium flame, cook for 10-15 minutes so that sago gets cooked. As sago gets cooked, it turns transparent, you can see payasam also thickens. When payasam thickens, add thick coconut milk. Mix well. After adding thick coconut milk, don't allow payasam to boil. You just have to heat payasam nicely. Add cardamom powder. Switch off the stove.
In a pan, add ghee. When ghee is hot, add cashewnuts. Fry cashewnuts on low flame. When cashewnut starts to change color, add raisins. Fry again. When raisins are plump, switch off the stove.
Pour fried cashews and raisins over payasam. Mix well.
Sadya special Kadala pradhaman is ready.
Enjoy with pappad and banana. Pure bliss.
Notes:- .
If you are trying to melt a big ball of jaggery, it will take more time to melt. So jaggery should be broken into small chunks, so that it melts fast.
Chana dal should be cooked nicely. If chana dal is not properly cooked before adding it to jaggery syrup, dal will remain thick even after payasam is done.