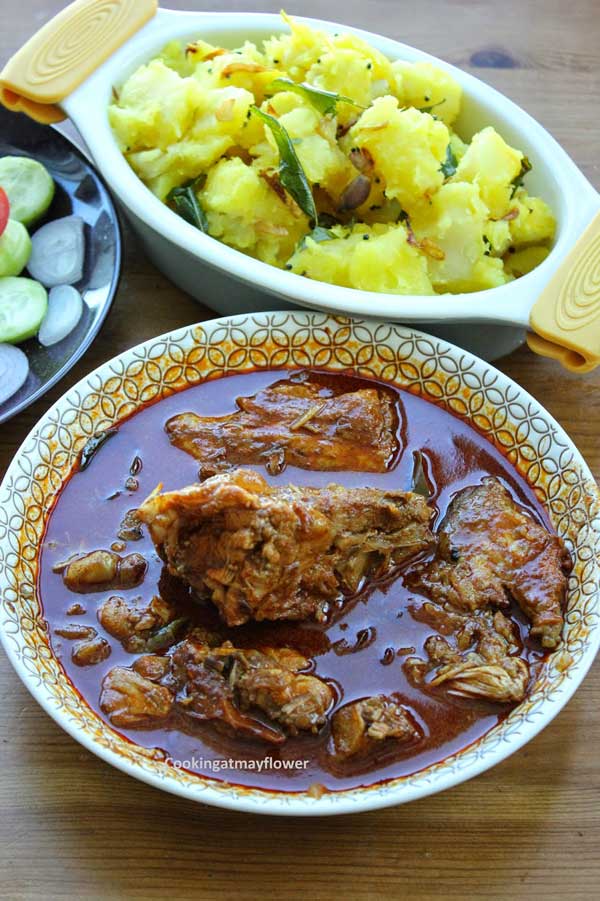 Kappa and meen thala curry is a Kerala toddy shop delicacy.
It's a combo of 2 dishes – tapioca stir fry and fish head curry.
Tapioca is pressure cooked with turmeric, which gives a nice color to the dish. A delicious tempering is also added.
Fish head curry is done Kerala toddy shop style (Kallushap thala curry)
TAPIOCA STIR FRY (Kappa Ularthiyathu)
INGREDIENTS
Kappa – 1 kg
Turmeric powder – 1 tsp
Salt
Mustard seeds -1 tsp
Dry red chillies – 2
Curry leaves
Shallots, chopped – 2 tbsp
Green chillies – 3
Garlic, crushed – 2 tsp
Ginger, crushed – 2 tsp
Oil as needed
Salt as needed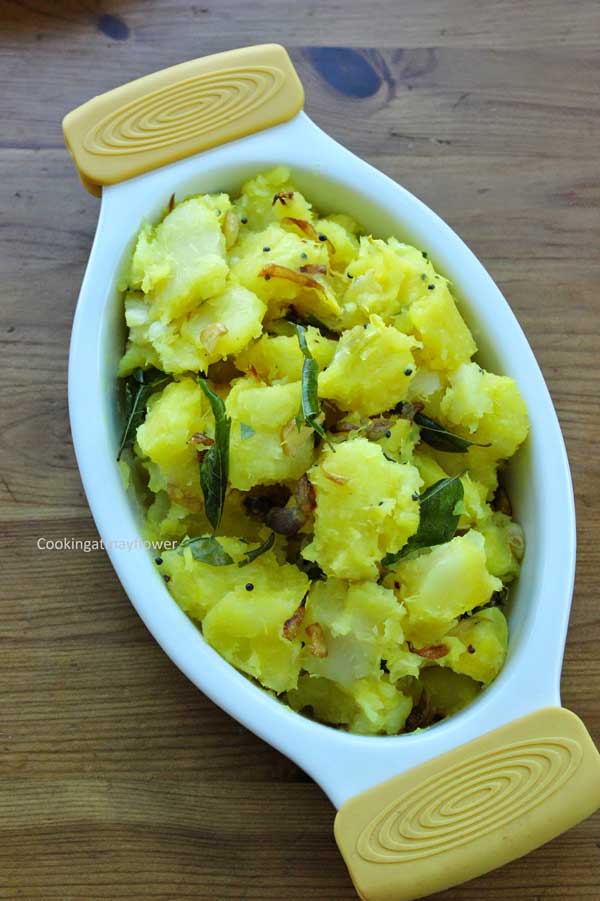 INSTRUCTIONS
Peel and wash the tapioca. Cut into small pieces. Add turmeric powder.
Pressure cook tapioca with enough water and salt. Cook for 2-3 whistles.
Drain water from cooked tapioca. Lightly mash tapioca with spoon.
Heat coconut oil in a pan. Splutter mustard seeds. Add dried red chillies, curry leaves, and shallots.
When it turns light brown, add green chillies, ginger, and garlic. Add cooked tapioca and mix well.
Tapioca ularthiyathu is ready to go with fish head curry.
FISH HEAD CURRY (Meen Thala Curry)
INGREDIENTS
Fish head – 1½ kg
Onion – 1 medium or Pearl onions – 1 cup
Green chillies – 2
Ginger, chopped – 2 tbsp
Garlic, chopped – 2 tbsp
Tomato, chopped – 2 medium
Curry leaves
Malabar tamarind / Kodumpuli – 6 pieces
Coriander powder – 2 tbsp
Kashmiri chilli powder – 3 tbsp
Turmeric powder – 1/2 tsp
Fenugreek powder – 1/4 tsp
Mustard seeds – 1 tsp
Coconut oil
Salt as needed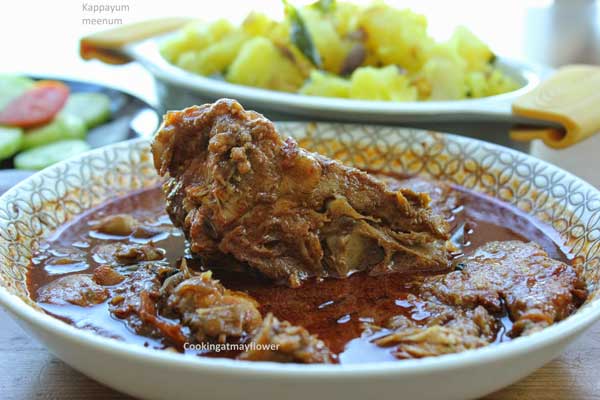 INSTRUCTIONS
Clean and cut fish head into pieces.
Heat oil in a manchatti/pan. When oil is hot, add mustard seeds.
When mustard seeds crackle, add curry leaves, onion, ginger, garlic, and green chillies. Saute nicely.
When onion turns light brown, add tomato. Saute till tomatoes are soft.
Add coriander powder, kashmiri chilli powder, turmeric powder, and fenugreek powder.
If you need, you can add oil now.
Add Malabar tamarind along with water in which it is soaked.
Add 2 cups of water or as per your requirement. Add salt.
Allow it to boil for 5 minutes. Add fish head. Mix well.
Close with a lid and cook. In between, open the lid and mix.
When gravy thickens, add curry leaves. Switch off the stove. Transfer fish head curry to a serving dish.
Note: The cooking time depends on how big the fish head is.
For big fish heads like Hamour/Grouper, it takes 30 minutes.