Fish cooked in banana leaf is
famous in hotel, houseboat, and toddy shop/kallushap menu. It is a must try for
those visiting backwaters of Kerala, not to forget the houseboats. Mostly, a
fish called Karimeen, which is caught in backwaters are used to make karimeen
pollichathu. This dish is equally enjoyed by locals and visitors. Banana leaf
used in cooking gives it a distinctive flavor. Serve it with some onions,
tomatoes, carrots, and lemon wedges.
So on your next trip to Kerala, don't miss a trip to backwaters
and don't forget to eat Karimeen Pollichathu, a Kuttanadan specialty.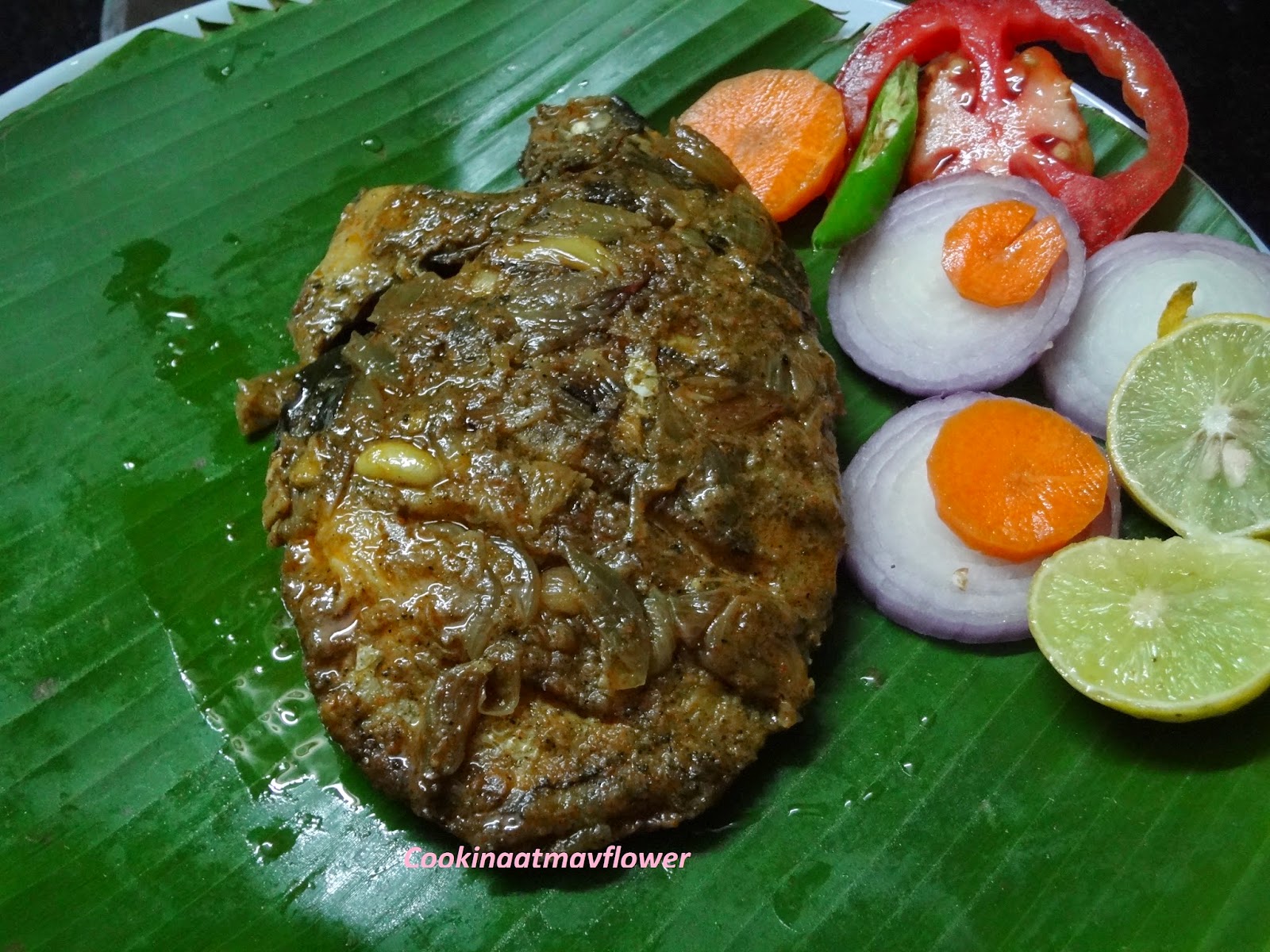 To marinate fish
Karimeen/Pearlspot – 3 nos/ 650 gm
Turmeric powder – 1/2 tsp

To make masala gravy
Shallots, chopped – 1 cup
Green chili, slited – 2 nos
Coriander powder – 2 tbsp
Kashmiri chili powder -1 tsp
Turmeric powder – 1/2 tsp
Thick coconut milk – 1 cup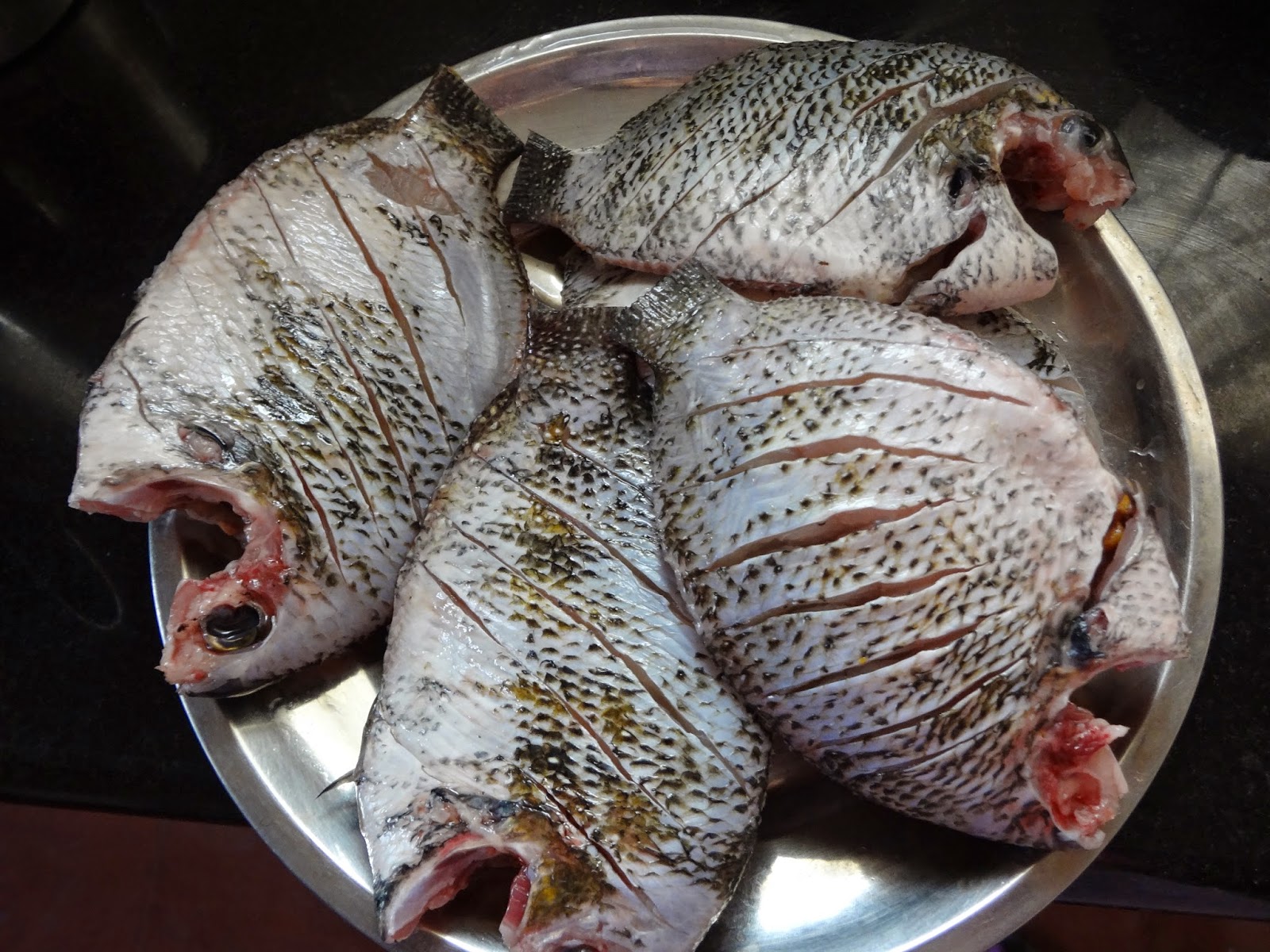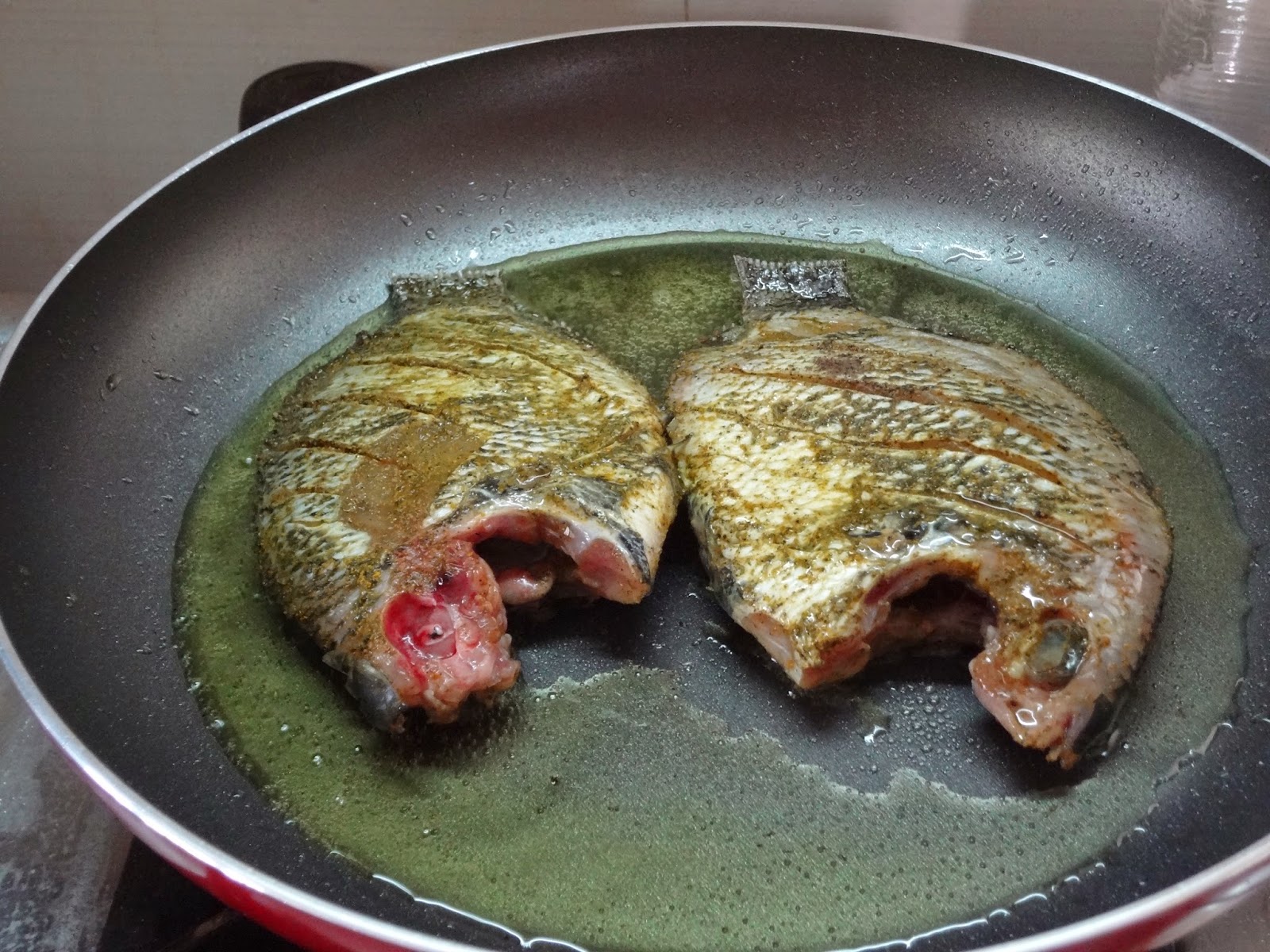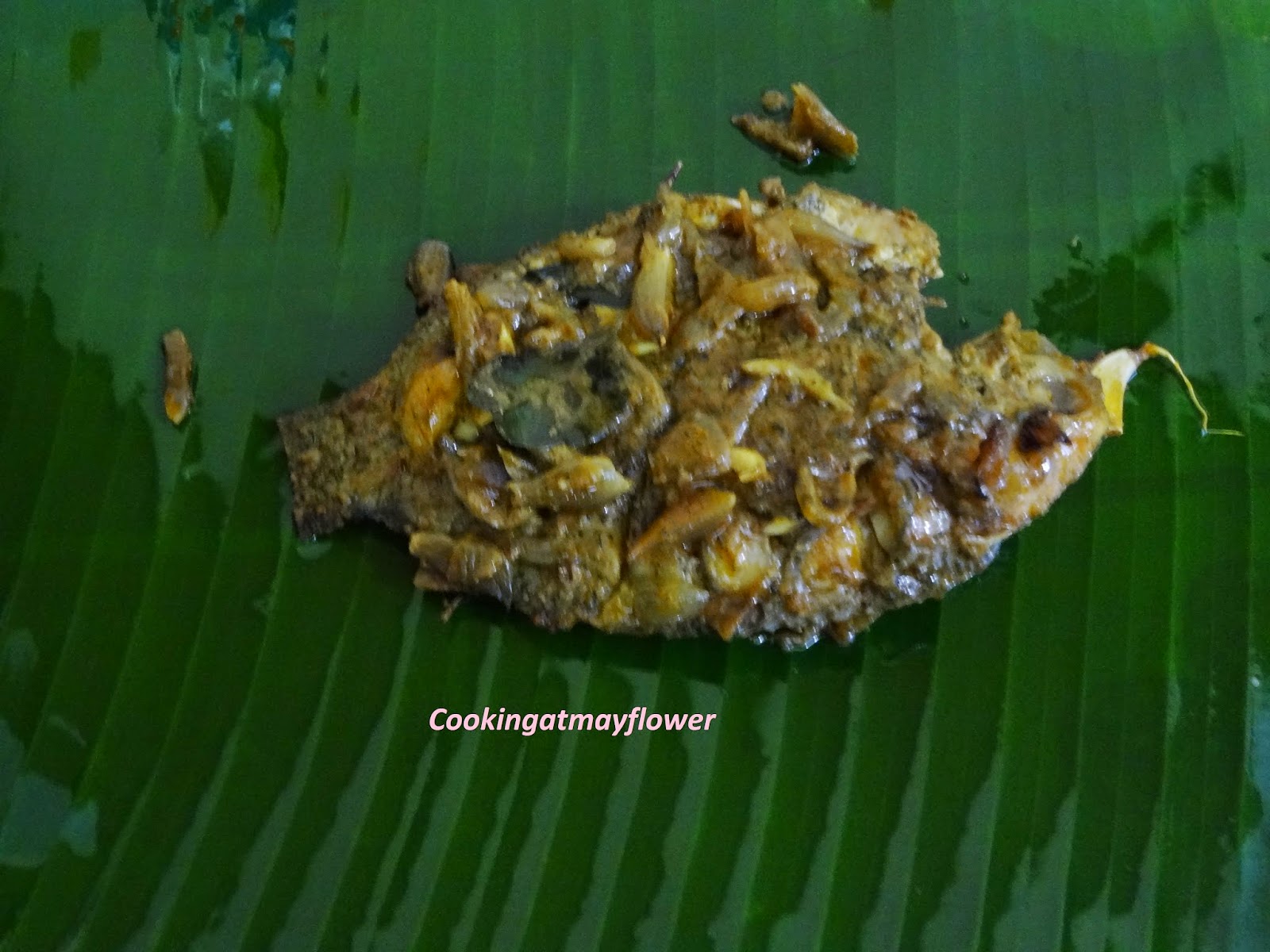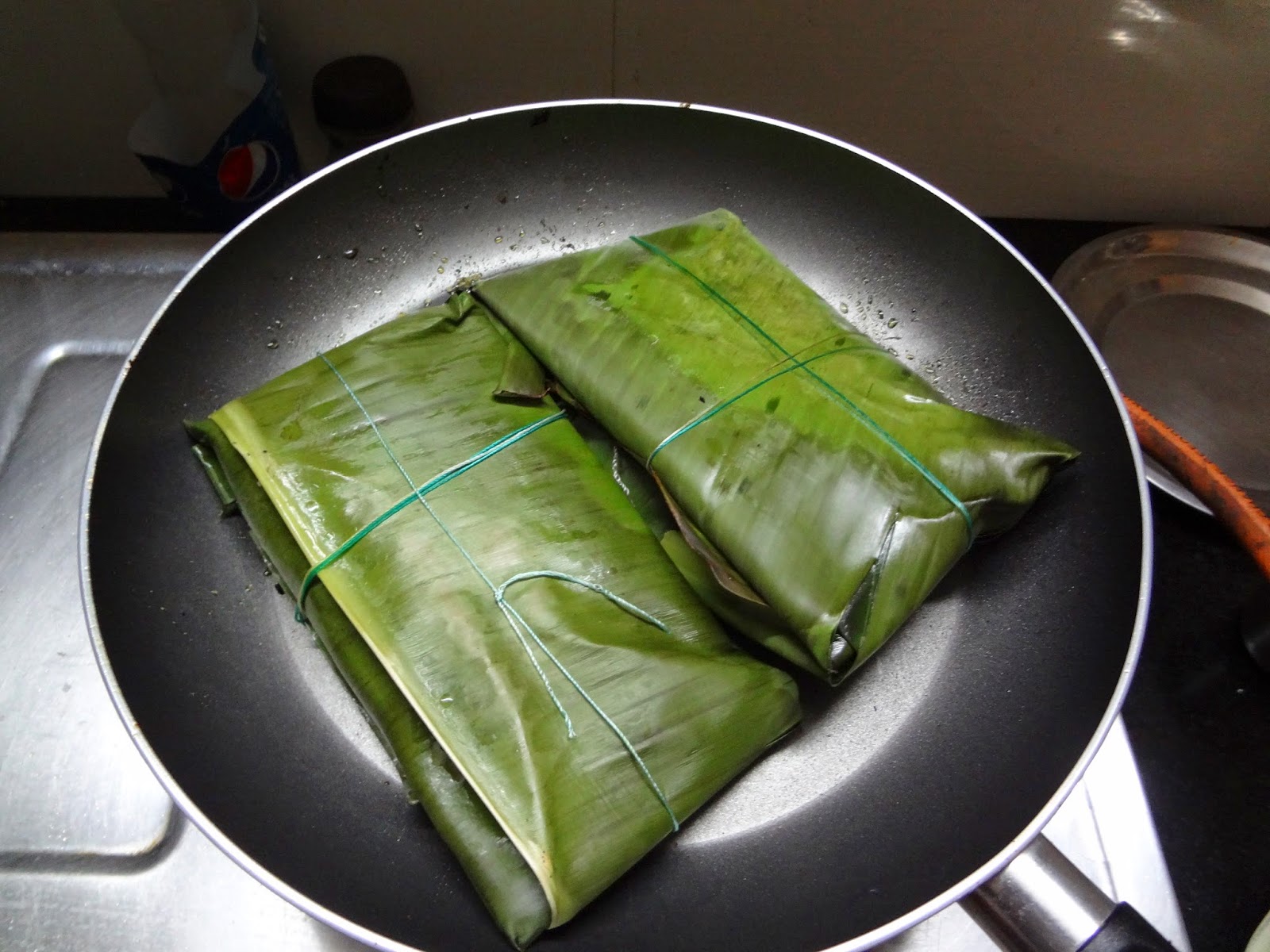 Clean the fish and make slits on both sides.
There are 2 steps to making karimeen pollichathu
Firstly, you have to marinate fish.
Secondly, you have to make masala gravy.
Let's start by marinating fish. For this, soak pepper powder,
chili powder, turmeric powder, lime juice, and salt in small amounts of water
to make a smooth paste. Apply the smooth paste on both sides of fish including
the belly part. Keep it marinated for 1/2 hour.
After ½ hour, heat coconut oil in a pan. Fry fish on both sides.
Don't deep fry the fish, just shallow frying is enough. Keep this aside.
In the same pan with remaining oil, let's prepare masala gravy for
karimeen pollichathu. You can add more oil, if you feel the oil is less to
cook the gravy. To the already hot pan, add shallots, green chili, and
curry leaves. Saute. Now add garlic and ginger. Saute till the shallots
turn light brown in color. When shallots turn light brown in color, add tomato.
Saute well till tomato is cooked. Now add coriander powder, chili powder,
turmeric powder, and pepper powder. Lower the flame. Saute till the raw smell
of masala leaves. Now sauteed masala mixture is ready. Add salt. Mix
well. Taste check for salt and add salt only if required. Add thick
coconut milk to the mixture. Mix well. Pass heat through the coconut milk,
but don't boil it. When coconut milk is heat through, add fried fish. Allow the
gravy to be thickened and well blended with the fish. When the fish is well
coated with the masala gravy, switch off the stove. Set aside.
Lastly, we need to prepare banana leaf for the recipe. Cut banana
leaf as required. Switch on the stove. Allow the leaf to wilt by placing both
sides of leaf on flame. This helps to soften the banana leaf, which indeed
helps with proper sealing of masala gravy to the fish when it is
wrapped. Don't ever wrap the fish in banana leaf straight without wilting
it. This makes the leaf to tear easily and the gravy will be leaking from
the leaf. So wilt the banana leaf before wrapping the fish to avoid the
leaf from getting torn and leaking gravy.
Grease the wilted banana leaf with coconut oil. Place the
fish in the middle of the wilted leaf along with the thick gravy. Add some more
masala on top of the fish before folding the leaf. Now fold the leaf in
four and tie the banana leaf. You can use thread or banana leaf fibers to
help tie the leaf. Wrap the remaining fishes in banana leaf.
Place the wrapped fish on to a hot pan. Cook the wrap on both
sides. Cook until the leaves look discolored and a nice aroma wafts
through the air.
Now transfer the fish cooked in
banana leaf to a plate. Cut the string to unwrap the banana leaf. You will
experience a nice aroma coming from coconut milk and shallots cooked in banana
leaf.