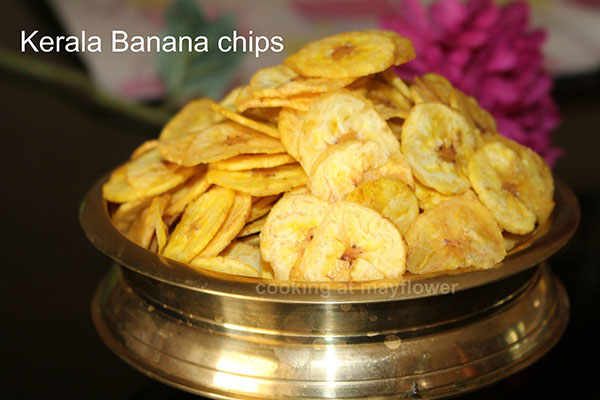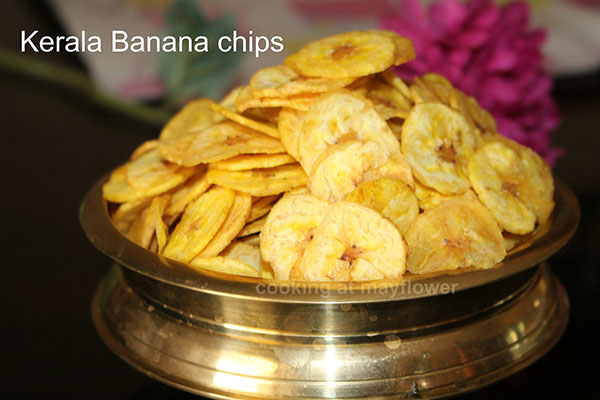 Ingredients
Raw banana / Pacha kaya – 4
Coconut oil for frying
Salt – 1 tsp or as needed (depending on taste)
Turmeric powder – 2 tbsp
Water – as needed
1. In a bowl, add turmeric powder and water. Mix well and set aside.
2.
Using a knife, chop off the top and bottom part of raw banana. Slit the banana peel vertically using a knife. The process of slitting helps to remove the banana peel easily with your hands.
3. Soak peeled banana in turmeric water mixture for 15 minutes. Soaking peeled banana helps in removing the stains. It also helps in giving authentic yellow color for banana chips. 
4. Don't ever throw banana peels to bin. You can make delicious banana peel thoran or curry out of it.
5. After 15 minutes, rub banana with your hands to remove any stains sticking on to the flesh of banana. Once it is done, use a kitchen towel to pat dry banana.
6. Using a grater or knife, slice banana into thin slices.  Use slicer part of a grater to get thin slices of banana.
7. In a small bowl, mix 1 tsp of salt with 2-3 tsp of water. Set aside.
8. Heat oil in a kadai. When oil is really hot, add thin banana slices. Mix with a spoon. Mixing with a spoon assures banana slices are separated from each other and not sticking to each other.
9. When banana slices start to change color, sprinkle salt water. Continue to fry banana slices.
10. When spoon touches banana slices, you can hear a crispy sound, that's when you can tell banana chips is ready. Another way to tell if banana chips is done to perfection is to try breaking one banana chip. If you hear sound, yum, it's ready.
11. Using a slotted spoon, transfer deep fried banana chips on to a tissue lined plate.
12. When cool, store banana chips in an airtight container.