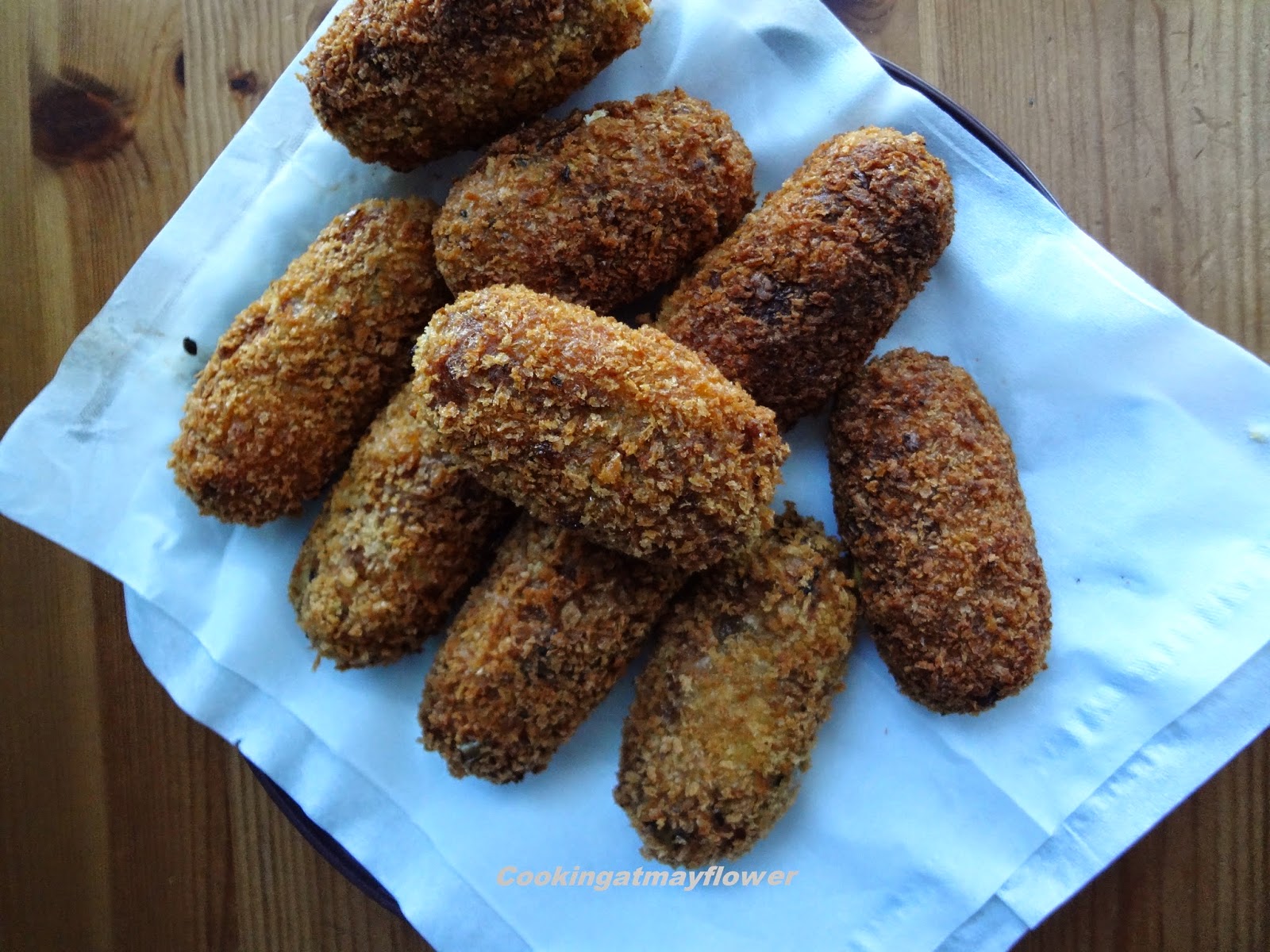 Fish cutlet is an integral part of Christmas lunch. A perfect appetizer for you this Christmas from Cooking at Mayflower. Kerala fish cutlets are paired with sallas for Christmas lunch.
Ingredients
Fish (Mackerel/Ayala) – 2 big
Turmeric powder – 1/2 tsp
Onion, finely chopped – 1 big
Green chili, finely chopped – 3 nos
Ginger, finely chopped – 1 tsp
Coriander leaves, finely chopped – 2 tsp
Potato, boiled and mashed – 2 big
Roasted grated coconut – 2 tbsp
Breadcrumbs / Panko – as needed to coat the cutlets
Method


Clean the fish by removing the fins and head . Wash the fish thoroughly in clean water.


Cook fish along with water, turmeric powder, salt and vinegar. When fish is cooked, water should be dried out. Set the cooked fish aside to cool. When cold, remove the skin and bones of the fish. Mash the flesh of the fish. Set this aside.


Heat oil in a pan. Add onions, green chilies, and ginger. Saute well. When the onion turns color, add pepper powder, chili powder, garam masala. Saute well. When the raw smell of the powder leaves, add mashed fish to this mixture. Add coriander leaves and salt if required. Now add roasted coconut. Mix well and switch off the stove. Leave this mixture to cool down. When cold, add mashed potatoes. Mix it thoroughly with your hands. Now with your hands, roll the mixture into mini logs or any of your desired shapes. Dip them in beaten egg whites, then dip them in breadcrumbs.
Heat oil in a pan. Deep fry the cutlets until golden brown. Transfer them to paper towels when golden brown. Serve hot with tomato ketchup, sallas, or green chutney of your choice.
Notes:- While frying cutlets, ensure the oil is very hot. As soon as you add cutlets to the pan for frying, reduce the flame.
While dipping the cutlets in egg whites, make sure that the egg whites are properly coated. This avoids the cutlets from breaking.
Make sure the cooked potatoes are peeled and mashed when it is cold. Otherwise, the potatoes won't be stiff.
While frying cutlets, cutlets should be drowning in oil. If not, with a spoon just pour some oil on top of the cutlet, which is not drowned in oil.