Merry Christmas to all my friends and family. Sharing a slice of cake and wine with all of you.
This is a traditional Cochin style plum cake enjoyed by lovely Kochiites on this very occasion of Christmas. 
The steps involved from making homemade orange peels to soaking dry fruits in rum to browning sugar to making ground mixed spices at home results in an indulgent rich moist cake.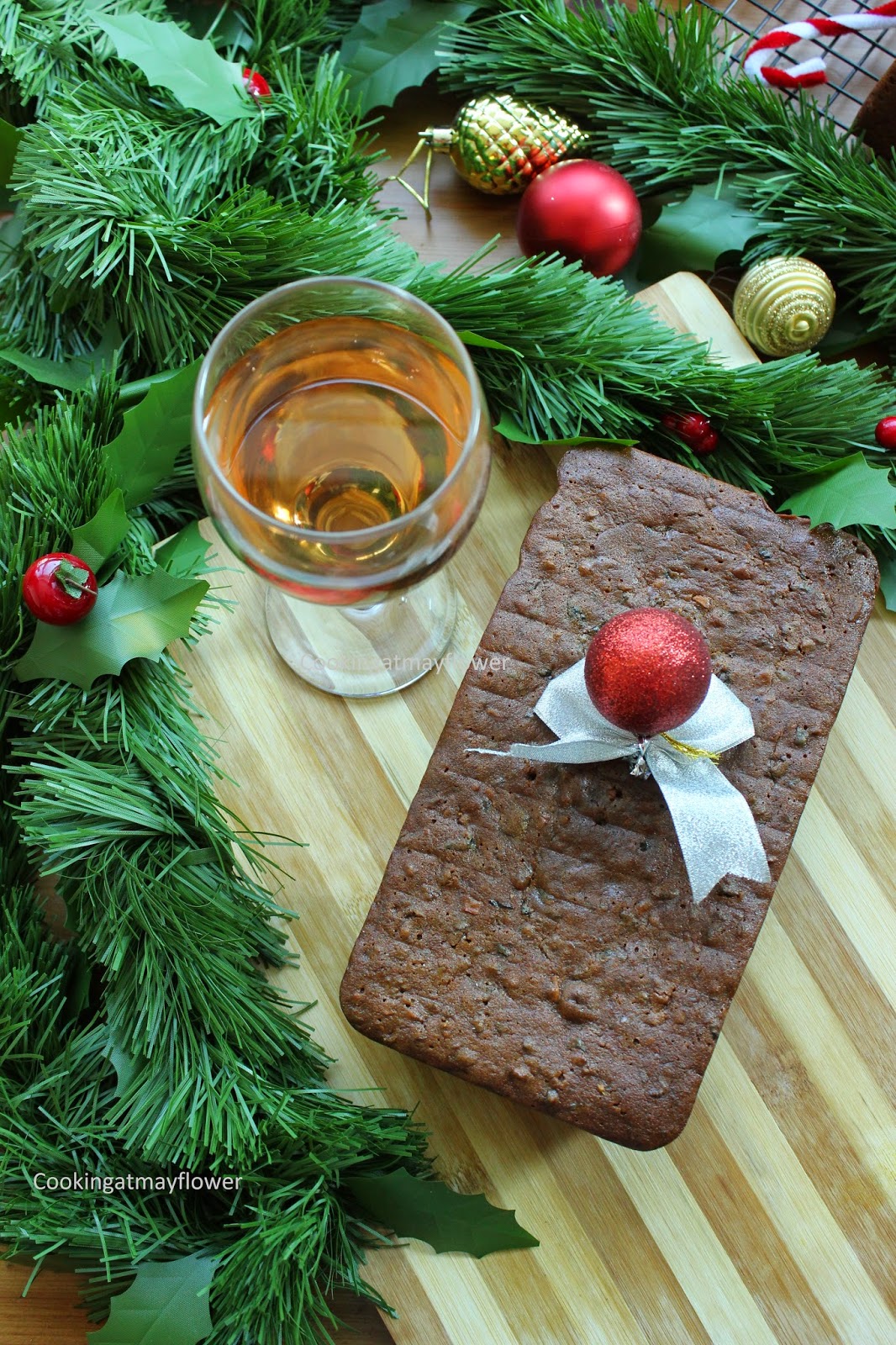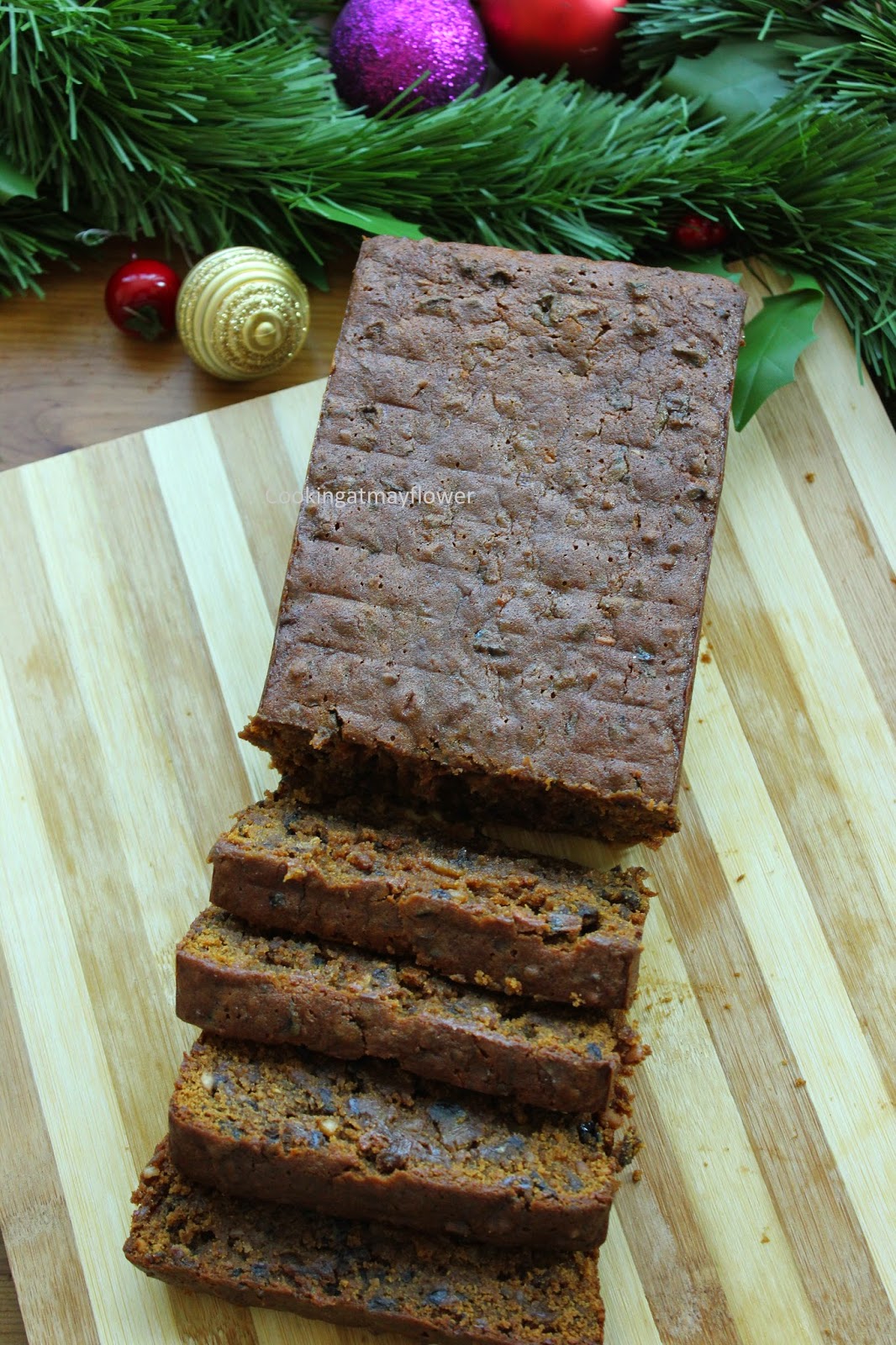 Ingredients
Dried black grapes – 125 gm 
Dried white grapes – 250 gm
Prunes – 50 gm 
Orange peel – 50 gm
Seedless dates – 100 gm
Cashewnuts – 100 gm
Dark rum/Mix of rum and brandy – 1/2 cup
Butter – 31o gm
Powdered white Sugar  – 250 gm
Sugar for browning – 1 cup
Vanilla essence – 1 tsp
Flour  – 250 gm+ 1 teaspoon
Eggs    – 5 nos
Baking powder -1 tsp
Aniseed – 1 tsp
To grind mixed spices
Cinnamon stick – 1 inch  (2 pieces)
Cloves   – 5 Nos.
Cardamom – 5 Nos.
Nutmeg  – 1/4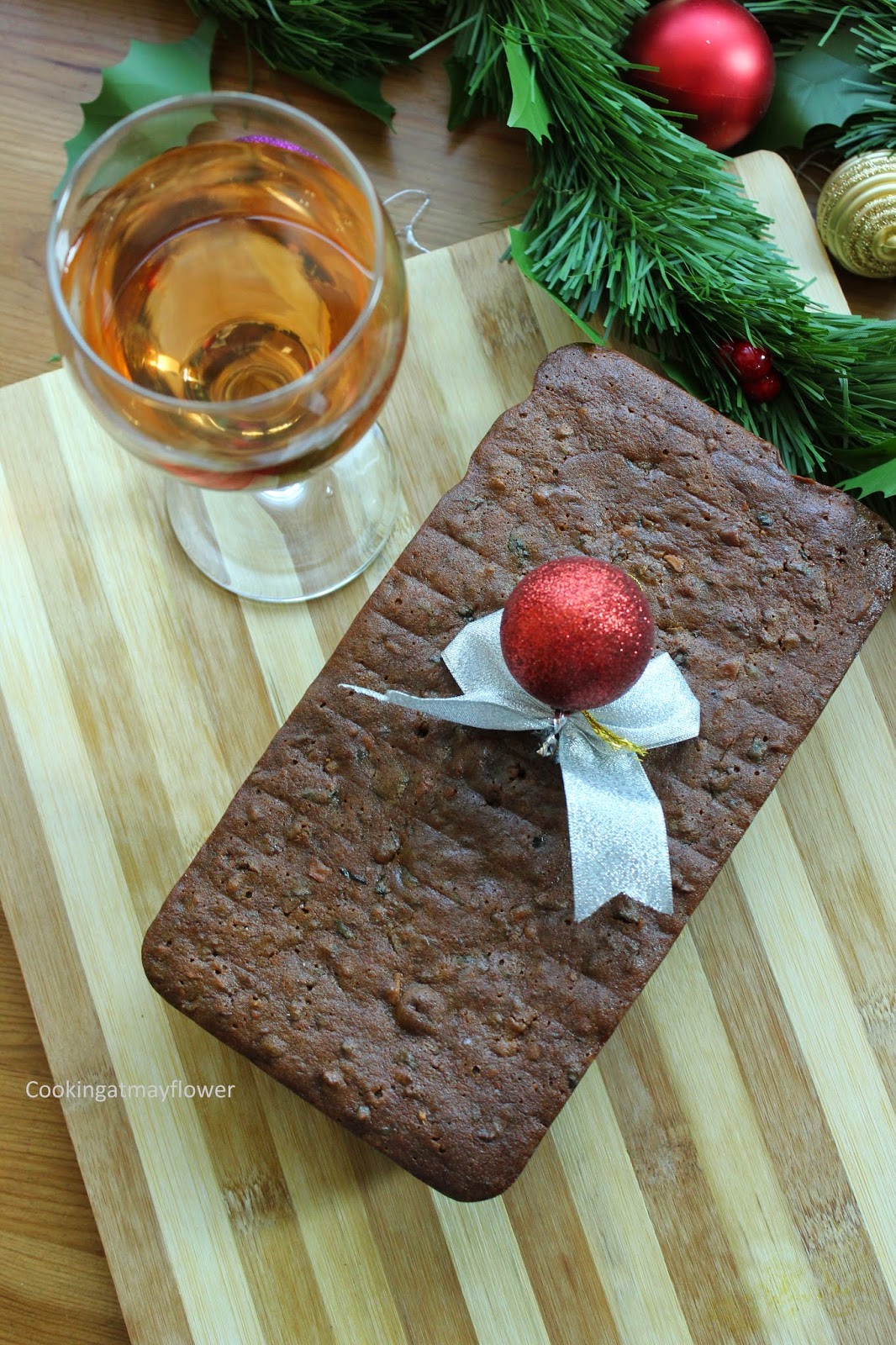 Soaking the dry fruits
Chop and soak dry fruits in rum and keep it overnight at room temperature. It is ideal to soak dry fruits as early as possible to get an intensely flavored rum cake. 
How to prepare sugar for browning
In a heavy bottomed pan, add the sugar and stir on medium heat. The sugar will start to melt and change colour. The colour will become dark golden brown and it will bubble up. Turn off the heat. Immediately pour 1/2 cup of warm water, stir and mix well. Care should be taken while adding water. 
Method
Sift the flour along with baking powder and keep aside.  Add ground  mixed spices and aniseed in it. 
Separate egg yolks from the whites. Keep the egg yolks and egg whites in separate bowls. 
Beat the egg whites until frothy. Using an electric mixer, beat butter and powdered sugar until it gives a light and fluffy texture. Add egg yolks one by one. Continue beating until the egg yolks are well incorporated to the mixture. Pour the browned sugar and vanilla essence and mix well. Coat the soaked dry fruits with some flour. Add this to the mixture. Now add the flour and ground mixed spices. Now fold in the frothy egg whites. Transfer the cake batter to two loaf tins. Cook at 175 degree Celsius for 50 minutes to 1 hour. 
According to your oven used, the time can change. So it is best to do a skewer test.