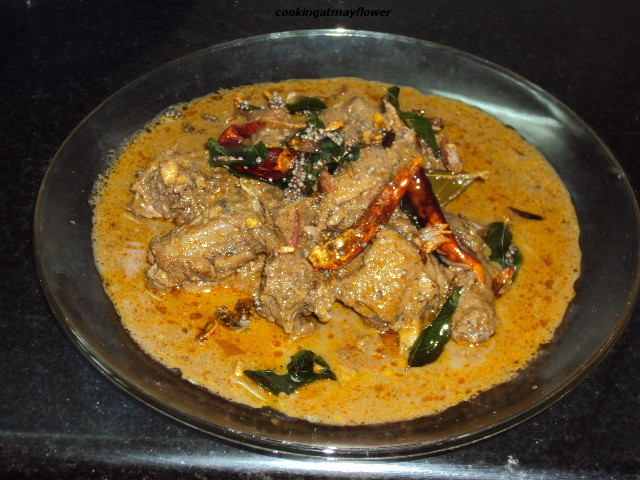 Mullapanthal is a very famous toddy shop in Ernakulam, Kerala. They are famous for their tasty curries such as crab curry, karimeen curry, duck curry. The place is famous among tourists and families from the locality. The recipe for duck curry is from Mullapanthal.
Ingredients
Duck – 500 gm
Onion -2 nos
Ginger-2 small pieces
Green chillies- 4 nos
Garlic -3 cloves
Curry leaves
Tomatoes – 2 nos
Chilli powder -1 tsp
Coriander powder-2 tsp
Turmeric powder- 1/2 tsp
Coconut oil – 150 gm
Coconut milk-1/2 of a coconut
Salt as needed
To grind
Grated coconut,fried -1/2 of a coconut
Dry red chillies -5 nos
Small onion -10 nos
Curry leaves
Fennel seeds -1 tsp
Peppercorns – 2 tsp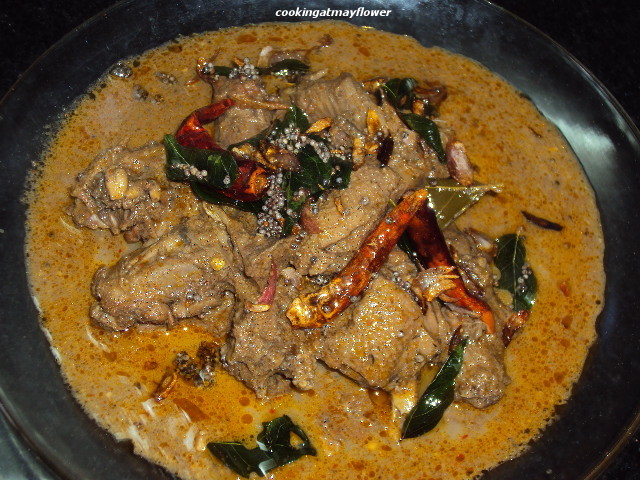 Heat oil in a pan. Saute chopped onion, ginger, garlic, green chillies and curry leaves well. Add chilli powder, turmeric powder, coriander powder and mix well. Now add tomatoes and duck. Transfer this to a pressure pressure cooker and cook till they are done. Once the duck is cooked, add the ground mixture (to grind) along with 1/2 cup of warm water. When the gravy starts to thicken and the duck is cooked well, pour coconut milk to the duck curry and allow it to heat up (don't allow it to boil) and switch off the stove.
In another pan, splutter mustard seeds and dry red chillies. Pour this to the above duck curry .
This duck curry goes well with
tapioca upma
, pidi, or boiled rice.