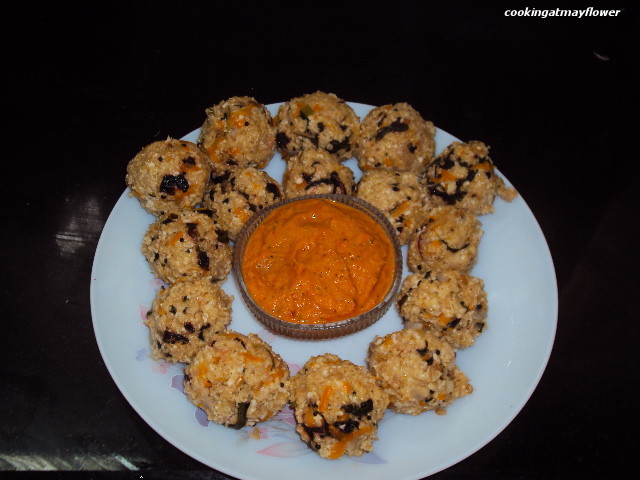 Ingredients
Oats – 1 cup
Water – 3/4 cup
Grated coconut – 2 tbsp
Grated carrot – 1/4 cup
Spinach chopped – 1/4 cup
Onion chopped – 2tbsp
Salt as needed
Oil – 2 tsp
Mustard seeds – 1 tsp
Urad dal – 1 tsp
Curry leaves – 1 sprig
Green chillies – 3
Asafoetida – 2 pinches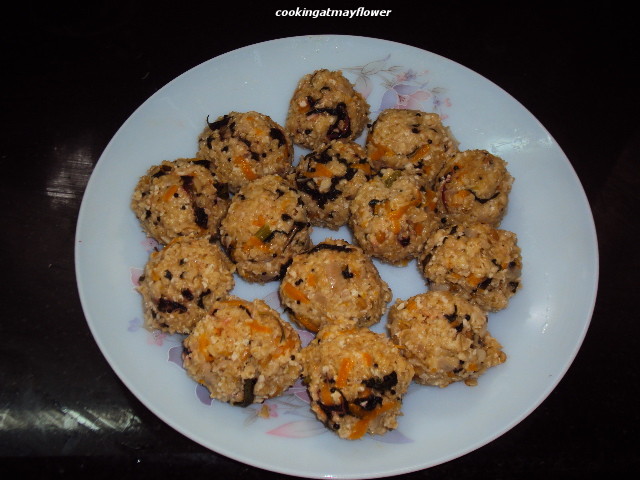 Directions
Heat oil in a kadai, add mustard seeds, let them crackle. Add urad dal, when they turn their colour, add onion, curry leaves, green chillies, vegetables, asaofoetida, and salt. Saute them well and close the lid for 2 minutes. Open the lid and add water. When the water boils, reduce the flame to medium, add oats and coconut. Mix them well. Don't make it too dry, if it dries up, sprinkle some water. After 1 minute, when the oats gets cooked (it should not be sticky) switch off the stove. Let it cool before rolling into balls (Put some oil in your hands before making oats balls, so that it won't stick). Put it in steamer and steam them for 5 minutes. Oats Kozhukutta is a nutritious breakfast and can be served along with Sambar or chutneys.