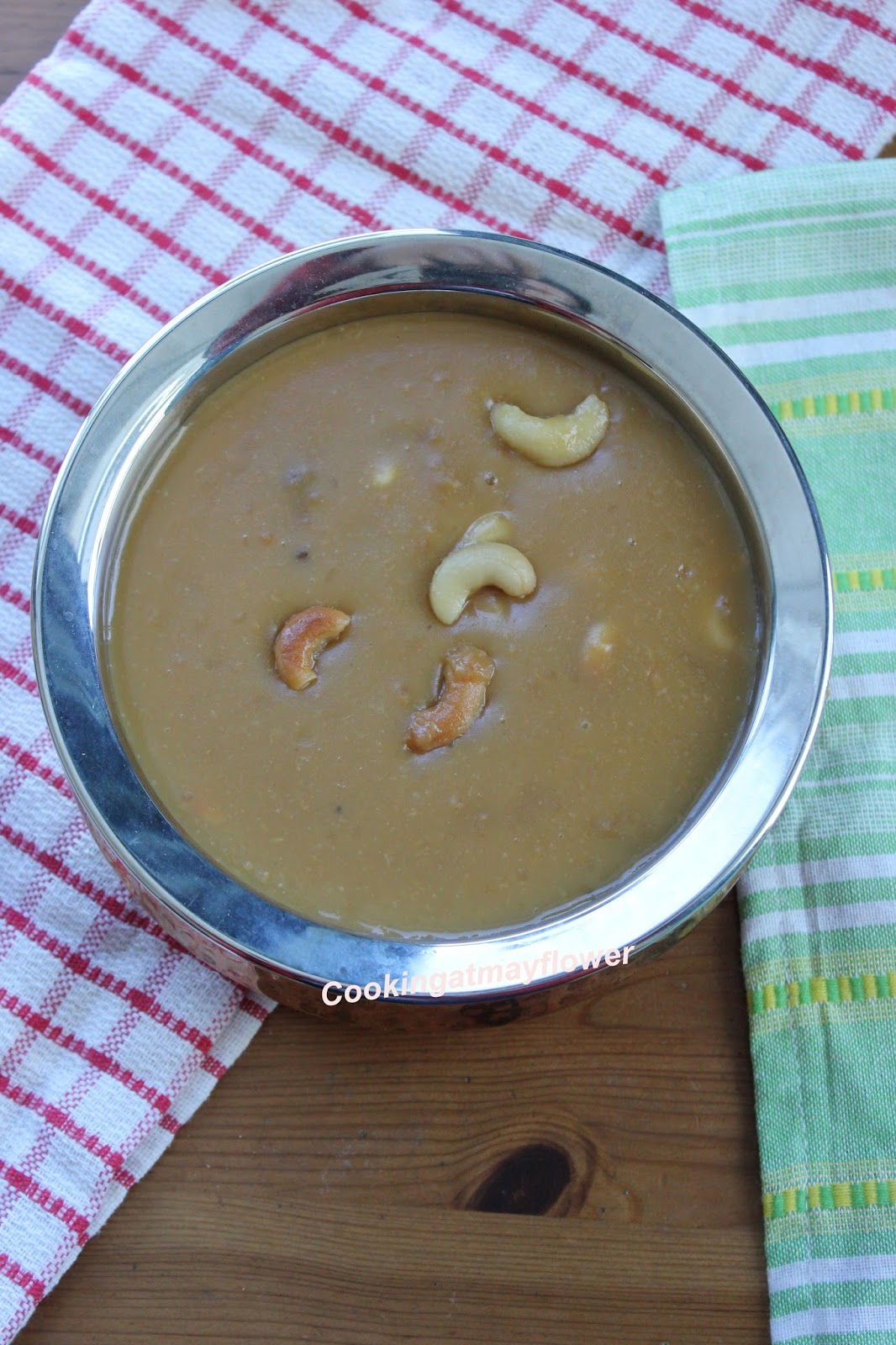 Ingredients
Moong dal / Cherupayar parippu – 2 cups
Water – 6 cups
Jaggery – 800 gm – 1 kg
Thick coconut milk – 1 to 1 ½ cups
Thin coconut milk – 4 cups
I have used 2 coconuts
Coconut pieces – ½ cup
Raisins
Cashewnuts
Cardamom powder – 1 tsp
Cumin powder – 1 tsp
Ginger powder  – 2 tsp
Instructions
Heat a pan / Uruli. When pan / uruli is hot, add moong dal. On medium flame, dry roast moong dal. Dry roast till they are crispy, but not brown in color. Cook till moong dal lightly changes color and turns crispy.  Transfer moong dal to a plate.  Let it cool down. Once dal cools down, wash moong dal in 2-3 changes of water. Discard water.
Now let's cook moong dal.
For that, boil 6 cups of water.
Pour boiled water over moong dal. Mix well.
When water comes to a boil, close the pan using a lid. Cook on medium flame. In between, open the lid and give it a nice stir.
Place jaggery along with little water on stovetop. Melt jaggery into a syrupy consistency. Mix well. Switch off when jaggery syrup is ready.
Check if moong dal is cooked. Cook dal till water is dried out. When water is dried out, mash moong dal using a spoon. Pass jaggery syrup through a sieve. Make sure moong dal is cooked well before adding jaggery syrup. Once you add jaggery syrup, moong dal won't get cooked.
You have to cook moong dal properly before addition of jaggery syrup.
Mix well to combine the syrup and dal. Cook till dal and syrup combined. Stir continuously till it is thickened. When dal is thickened, add ghee. Stir continuously. Now you can see it's even more thickened. Once it is thickened, add thin coconut milk. After addition of thin coconut milk, allow it to boil and thicken. Payasam has started to thicken. Now add cardamom powder, ginger powder, and cumin powder. Mix well. After addition of powders, allow it to boil for 2-3 mins. Now add thick coconut milk. Stir well. Once payasam is heated through, switch off the stove. Care should be taken not to boil payasam after addition of thick coconut milk. Set aside payasam.
Heat ghee in a pan. add cashewnuts and fry them. When cashewnuts are light brown in color, transfer it to a plate. Add raisins and fry. Add coconut and fry it. Fry till coconut is brown in color. When coconut is brown in color, switch off the stove. Pour this over parippu payasam. Mix well.