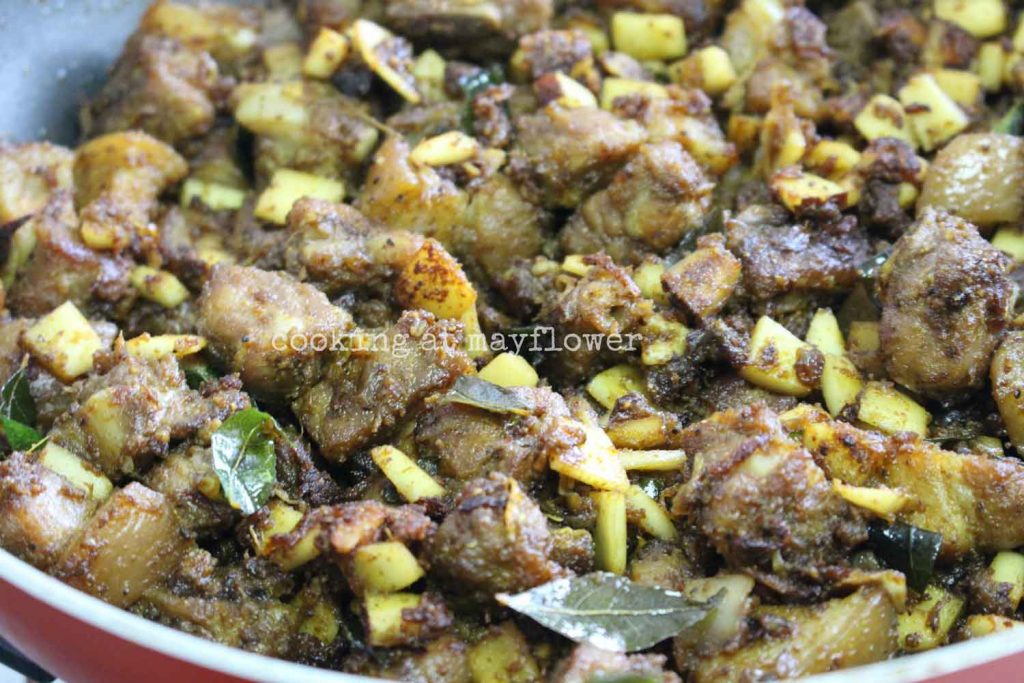 Ingredients

Pork, cut into cubes – 1 kg
Green chillies – 3 Nos.
Ginger chopped – 1 tbsp
Garlic chopped   – 2 tbsp
Coriander powder – 2 tbsp
Chilli powder – 2 tsp
Pepper powder- 1 tsp
Turmeric powder – 1 /4 tsp
Salt to taste

Dry roast and grind
Fennel seeds – 1 tsp
Cardamom   –  3 Nos
Cloves   – 6 Nos
Cinnamon – 1 inch piece 
For tempering
Shallots, chopped – 1 cup
Fresh coconut pieces – 1 /2 of a coconut
Curry leaves
Oil
Method

In a pan, dry roast fennel seeds, cardamom, cloves, and cinnamon. Grind this to a powder. Set this aside.
Marinate pork along with green chillies, ginger, garlic, coriander powder, chilli powder, pepper powder, turmeric powder, ground powder, which is set aside earlier and salt for 1/2 an hour. 
Pressure cook marinated pork
till 2-3 whistles or until the meat becomes tender. Set this aside.
Heat oil in a pan, add curry leaves, shallots and fresh coconut pieces. Saute till it starts to brown.  Pour the cooked pork along with gravy to this. Mix well and cook till all the water dries up.
Serve pork fry with rice and moru kachiyathu.