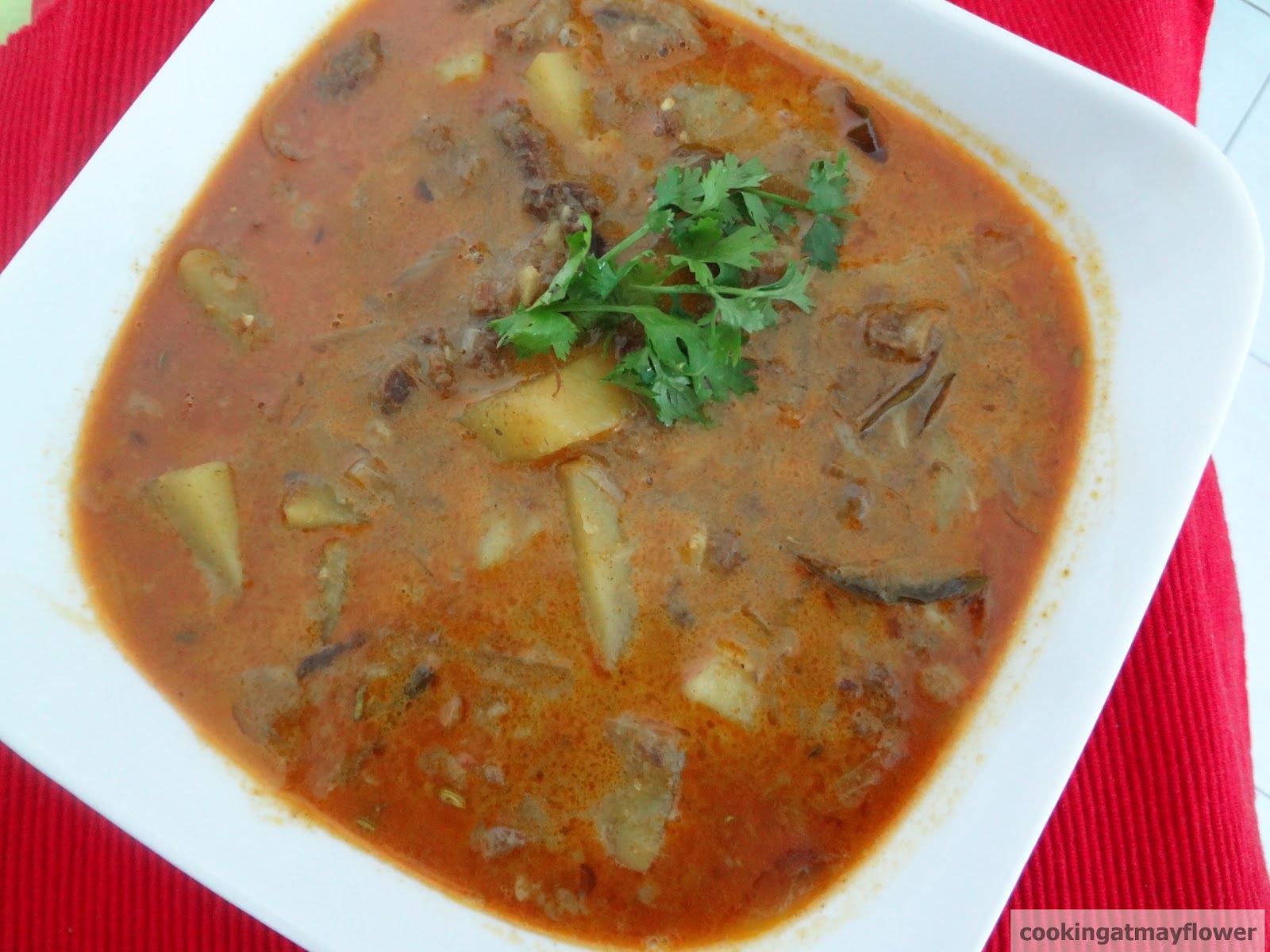 The recipe comes from my mother-in-law. She used to make this on Sundays. This curry can feed a large family and can be stretched to feed more people by the addition of potatoes.
Ingredients
Beef – 1/2 kg
Potato – 2 nos, medium
onion sliced – 1
Green chillies – 2
Ginger paste – 1 tsp
Garlic paste – 1 tsp
Coriander pdr – 2 tbsp
Chilli pdr – 1 tsp
Turmeric pdr – 1/2 tsp
Pepper pdr – 1/2 tsp
Fennel seeds powdered – 1/2 tsp
Garam masala – 1 tsp
Curry leaves
Coriander leaves
Coconut milk – both thick and thin
Salt
Coconut oil
Directions
Wash and clean beef. Cut beef into pieces and pressure cook along with salt and a very small ginger piece. Keep the cooked beef along with stock aside.
Cube the potatoes. Slice the onion.
Heat coconut oil in a pan, saute onions and curry leaves. When the onion becomes transparent, add green chillies, ginger paste, and garlic paste. Saute them for 2 mins. Soak coriander pdr, turmeric pdr, chilli pdr, pepper pdr, fennel pdr, garam masala pdr in little water. Reduce the flame to low, add the soaked pdrs and saute them well. Add thin coconut milk, cubed potatoes, and cooked beef along with stock. Cook till the potatoes are done and gravy thickens. Lastly add thick coconut milk and switch off the stove just before boiling. Decorate with coriander leaves.
This goes well with ragi puttu, idiyappam, and appam.