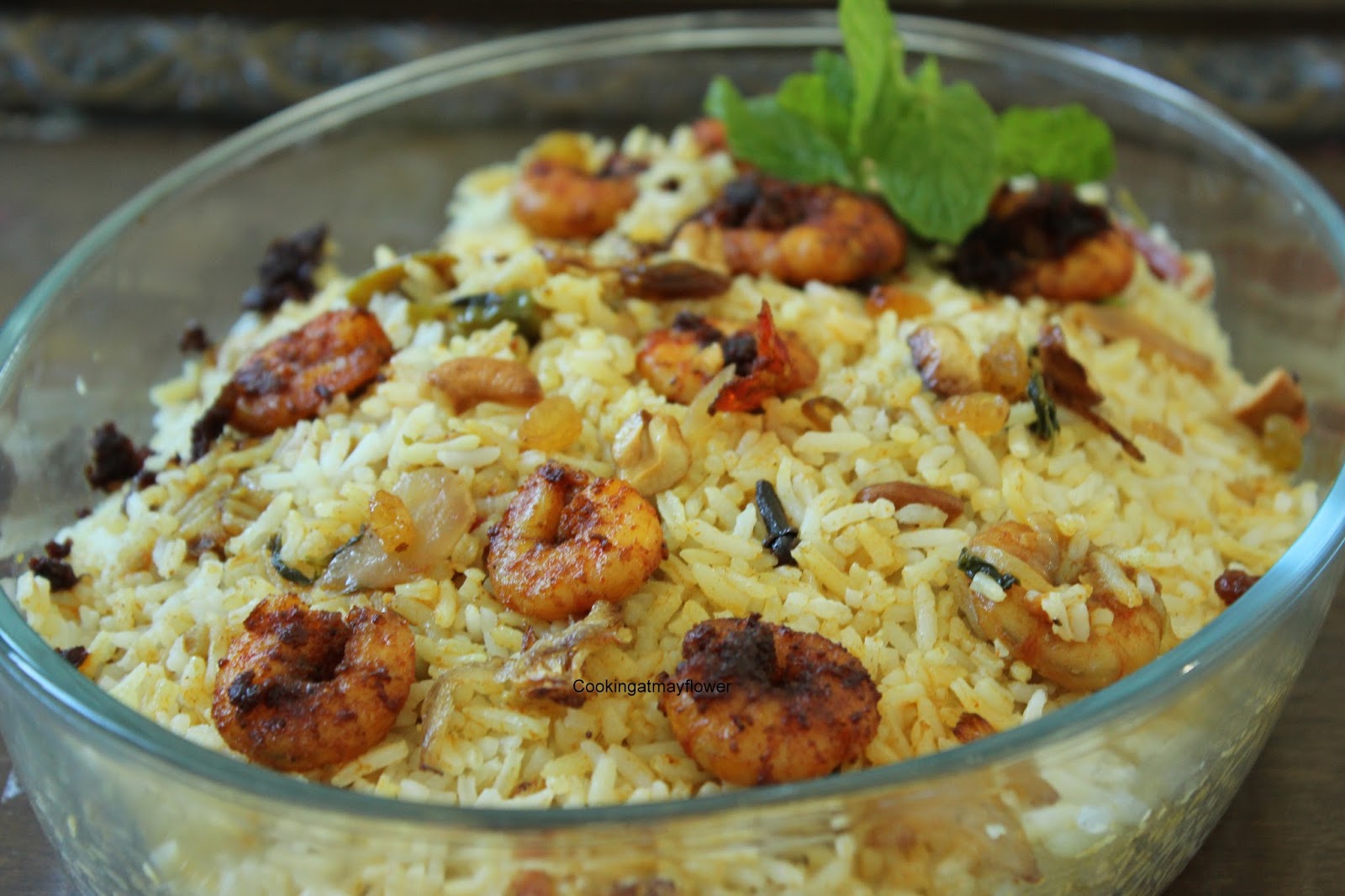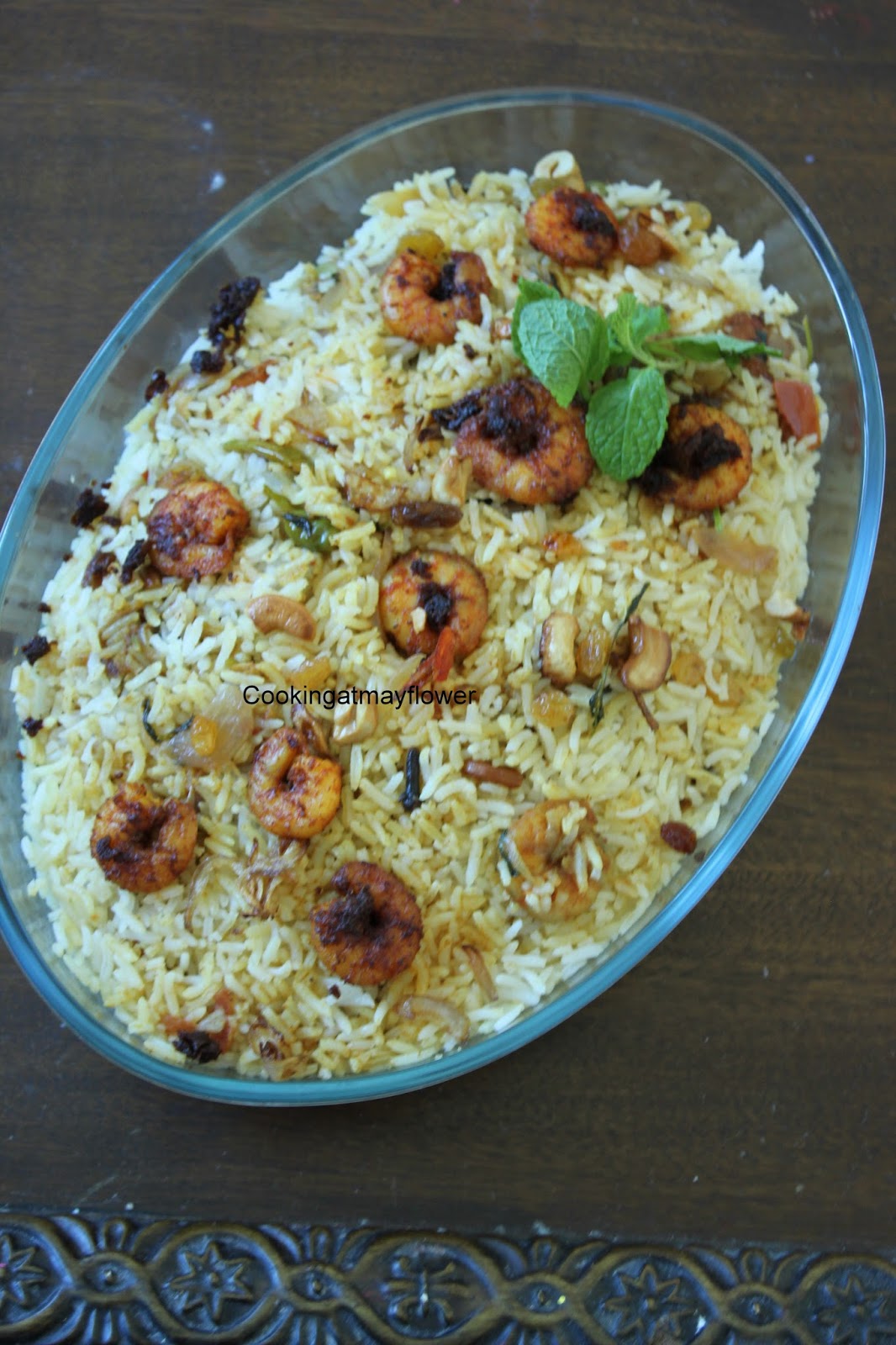 Biriyani recipes worth trying for Christmas 2015
Kozhikodan chicken biriyani


Prawn Biriyani


Ingredients
To marinate prawns
Big prawns, deveined and cleaned – 500 gm
Chilli powder – 1 tsp
Turmeric powder – 1/2 tsp
Pepper powder – 1/2 tsp
Method
Marinate prawns with chilli powder, turmeric powder, pepper powder and salt. Keep aside for at least 15 to 30 minutes. Heat oil in a nonstick pan. Add prawns and shallow fry on both sides for around 5 minutes. Take them out from the pan and keep aside.
For biriyani masala
Ginger – 2 inch piece
Green chillies – 4 nos
Tomatoes – 3 nos
Chilli powder -1 tsp
Coriander powder – 1 tsp
Fennel powder – 1/2 tsp
Garam masala powder – 1 tsp
Coriander leaves
Lime juice- 2 tbsp
Mint leaves
Salt
Method

Heat 2 tbsp oil in the same pan. Add ginger garlic paste, onion, green chillies and salt. Saute well. When onion turns light brown, add chopped tomatoes. Saute well till tomatoes are mashed up. Now add mint leaves, chopped coriander leaves, turmeric powder, coriander powder, chilli powder and garam masala powder. Saute well. Add the shallow fried prawns (keep some prawns for garnish) and saute well. Cover with a lid and cook for 5 minutes in low flame. Switch off the stove. Add juice of lime. Mix well and keep aside.
For rice
Basmati rice- 3 cups
Cardamom – 6 nos.
Cinnamon – 2 pieces
Cloves – 6 nos
Fennel seeds – 1/2 tsp
Ghee – 1/2 cup
Salt as needed
Water – 6 cups
Onion – 1 small
Cashewnut – 2 tbsp
Raisins – 2 tbsp
Heat ghee in a nonstick pan. Add onions and fry till brown. Keep this aside. Fry cashews and raisins and keep aside. Now splutter fennel seeds, cinnamon, cardamom and cloves. Add rice to this and saute for 5 minutes. Add 6 cups of boiling water and salt to the rice . Cover and cook in medium flame till rice has cooked well and water is completely absorbed. Now keep this aside.
For layering
In a big nonstick pot, add 1 tsp ghee, layer half portion of rice, next layer it with prawns masala and now sprinkle with fried onions, cashews, raisins and 1/4 tsp of garam masala, coriander leaves. Now layer it with other portion of rice and sprinkle fried onions, cashews, raisins, garam masala and chopped coriander leaves. Now pour 1 tsp ghee on top of rice. Close with a lid. Place a thick pan on stovetop and heat. Place biriyani pot over this pan and cook for 10 minutes in low flame. Switch off the stove and garnish with the reserved prawns on top. Serve biriyani hot.