Pressure cooker chicken and potato curry is a quick curry to make.
This chicken curry is apt when you have unexpected guests, for office goers, and bachelors with little time to cook.
It's an excellent recipe, which can be done under 25 minutes.
This chicken and potato curry serves 4-5 people.
The addition of coconut milk makes this curry more tasty. T
This curry goes particularly well with chapathis.
Ingredients
Chicken – 1/2 kg
Potato – 2 medium
Onion, sliced – 1 no
Green chilli, slit – 2-3 nos
Ginger, chopped – 1 tbsp
Garlic, chopped – 1 tbsp
Tomato, sliced – 1
Curry leaves
Coriander powder- 2 tbsp
Chilli powder – 1 tsp
Pepper powder- 1 tsp
Turmeric powder – 1/4 tsp
Garam masala powder (link given) – 1 tsp
Thick coconut milk – 1/2 cup
Coriander leaves, chopped – for garnish
Oil
Salt as needed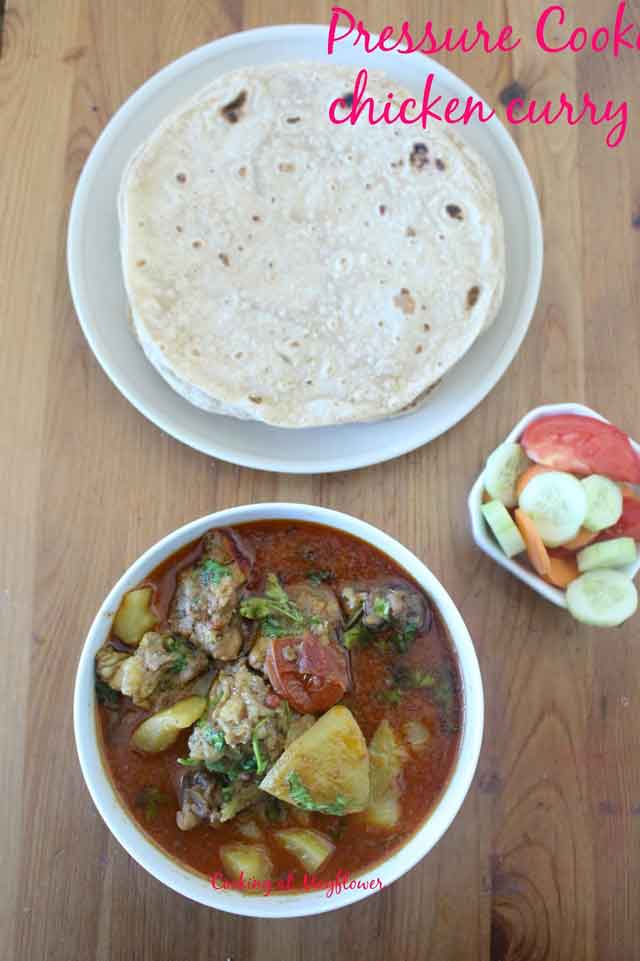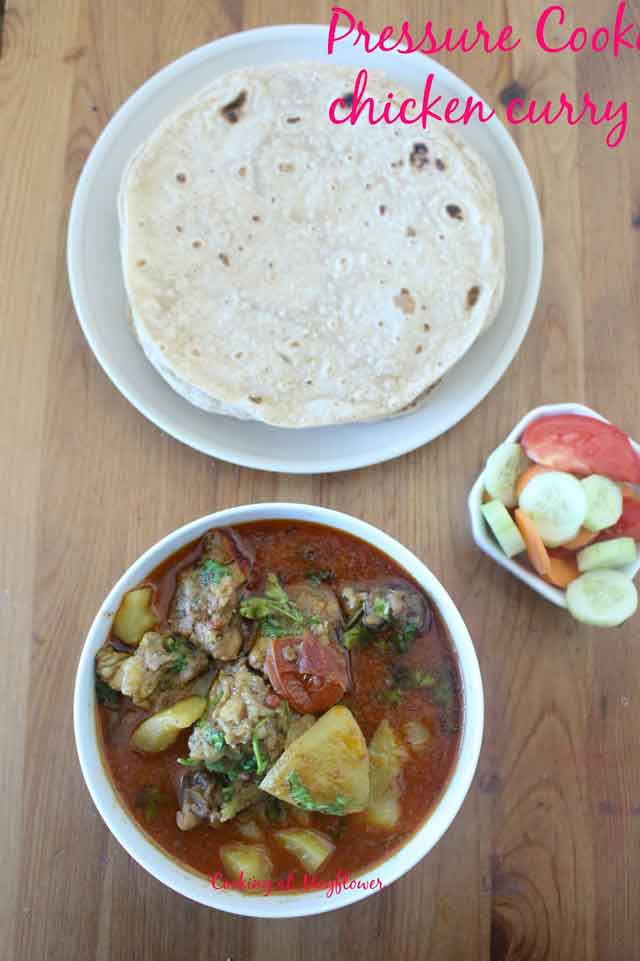 Method
Heat oil in a pressure cooker. Add onion, green chilli, ginger, garlic, and curry leaves. Saute well.
When the onion starts to turn color and little bit soft, lower the heat, then add coriander powder, chilli powder, turmeric powder, pepper powder, and garam masala powder. Saute for 2 minutes.
When the raw smell of masala leaves, add tomatoes and mix well. When the tomatoes are little bit cooked, add chicken pieces. Saute for 2-3 minutes.
When the masala is coated well on the chicken pieces, add potato. Mix well. Now add salt. Mix well. To this add water. You can add water depending on how thick or thin gravy consistency you need for the curry.
Close the lid of the pressure cooker. Place the cooker on stovetop. Cook until 2 whistles or until it is done. Switch off the stove. Let the pressure cooker sit undisturbed. Allow it to release the pressure on its own. Open the pressure cooker.
Now place the pressure cooker back on stove to thicken the gravy. When the gravy is slightly thick, add thick coconut milk. When it comes to a boil, add coriander leaves. Switch off the stove.
Enjoy with rice, chapathi, puttu, or appam.