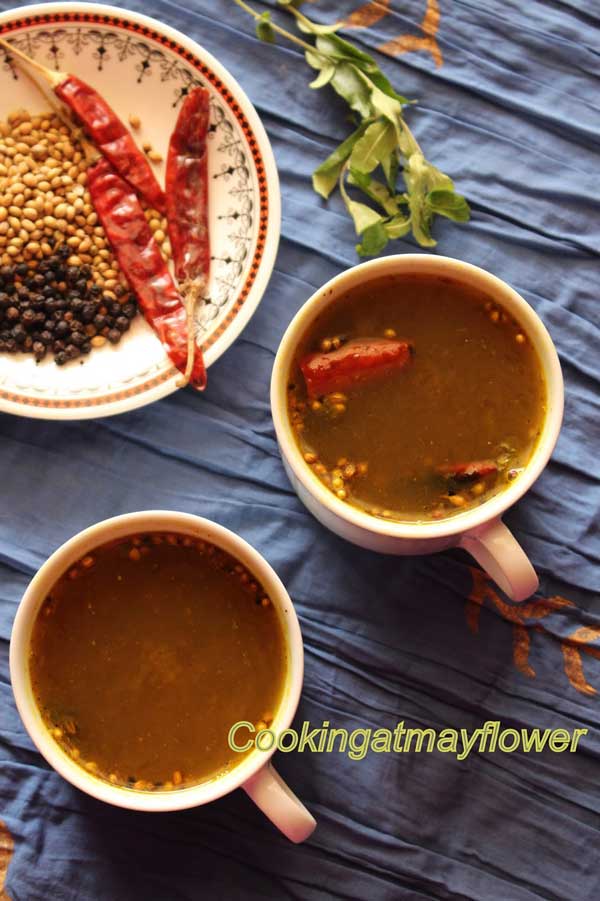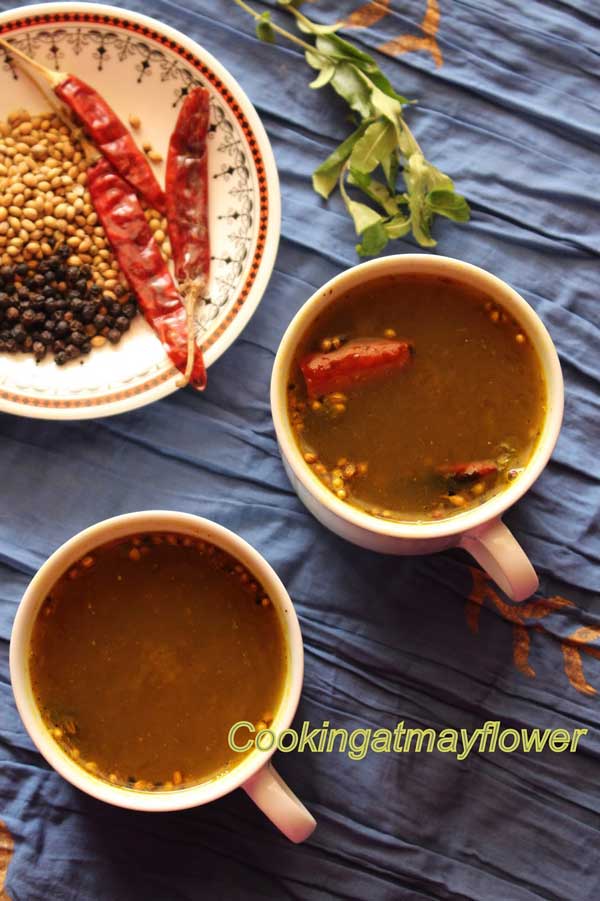 Pepper Cumin Rasam is ideal for cold winter days. It works best as a home remedy for cold and fever.
Ingredients
Whole coriander seeds – 1½ tsp
Whole peppercorns – 1½ tsp
Cumin seeds – 1½ tsp
Asafoetida – 2 small pieces
Jaggery – 1 tsp or as needed
Turmeric powder – 1/2 tsp
Tamarind – gooseberry sized
Water – 4 cups
For Tempering
Mustard seeds – 1/2 tsp
Whole coriander seeds – 1/2 tsp
Urad dal – 1/2 tsp
Dry red chillies – 3
Curry leaves – as needed
Coriander leaves – as needed
Salt – as needed
Ghee
Method
Grind peppercorns, coriander, and cumin seeds to a coarse powder. Keep aside.
Soak tamarind in 1/2 cup of water. Squeeze tamarind and discard the seeds. Keep aside freshly squeezed tamarind water.
In a pan, add 3 1/2 cups of water, curry leaves, tamarind, jaggery, turmeric powder, and salt. Bring to a boil. Simmer for about 3-4 minutes. Stir and remove from heat.
In a kadai, heat ghee. Add mustard seeds. When mustard seeds splutter, add urad dal, red chillies, and coriander seeds. When urad dal turns brown, add ground coarse powder. Saute on low flame for 2 minutes. Switch off the stove.
Pour it over the rasam. Boil for 3-4 minutes.
Serve hot with rice.