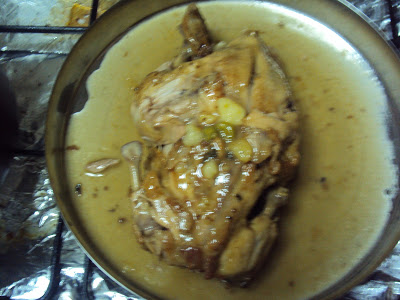 Stuffed chicken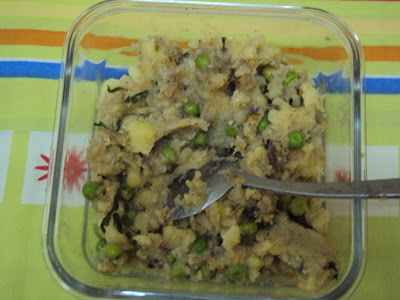 STUFFING
Roasted stuffed chicken
1 medium chicken with liver
3 medium potatoes
2 onion
peas – 1 cup
Green chillies – 3
ginger garlic paste – 1 tsp
pepper powder – 1 /2 tsp
cinnamon powder – 1/4 tsp
sugar – 1/4 tsp
vinegar – 1 tbs
oil – 6 tbs
salt to taste
Few coriander and mint leaves
Clean chicken. Make a lengthwise slit 2 -3 inches long on underside and remove intestines, etc. Wash
thoroughly. Apply a little salt inside and out. Mince onion, green chillies and ginger. Chop coriander and
mint leaves. Boil peas. Boil potatoes, peel and mash .
In a pan, heat 2 tbsp oil and saute onions, chillies and ginger till golden brown. Add peas, potatoes, coriander and mint leaves, sugar, vinegar, salt and pepper. Keep stirring for 5 minutes. Allow to cool.
Stuff the chicken with this mixture through the slit. Stitch up slit with a strong needle and thread.
Heat remaining oil in cooker . Add stuffed chicken and brown well on all sides. Add a pinch of salt and 1 cup of water. Close lid. Place cooker on maximum heat . Bring to full cooking pressure. Reduce to medium heat and cook for 10 minutes . Open cooker immediately after releasing steam pressure .
Replace on stove and dry water if any. Can be served with sauce and fried potatoes.