Ingredients
1) Toor dal – 1 cup
2)Ladies finger – 6-8 nos
3) Drumsticks – 2 nos
4) tomatoes – 3 nos
5) tamarind – lemon sized
6) Chana dal – 1 tsp
7) Coriander seeds -4 tsp
8) Fenugreek seeds – 1 tsp
9) Dry chillies – 10 nos
10) Asafoetida -a small piece
12)Greated coconut – half of a coconut
13)Coconut oil – 2 tsp
14)Mustard – 1 tsp
15)Curry leaves
!6) Coriander leaves
17) Salt as needed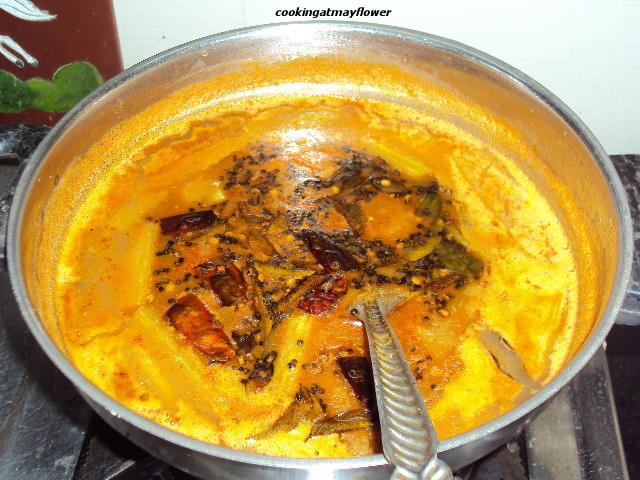 Method
Cook dal and keep aside. Heat oil in a pan, add grated coconut, shallots, and curry leaves. When the colour of the grated coconut changes slightly, add coriander seeds, fenugreek seeds, chana dal, dry chillies, asafoetida and fry with some more oil. When it turns brown in colour, remove from fire and grind well. Cook vegetables in tamarind water. Now add the ground mixture and cooked dal to this and remove from fire.
In a pan, heat oil, add mustard seeds, when it splutters, add curry leaves and coriander leaves. Pour the seasoning to the sambar.
Serve hot with idli, dosa or rice.