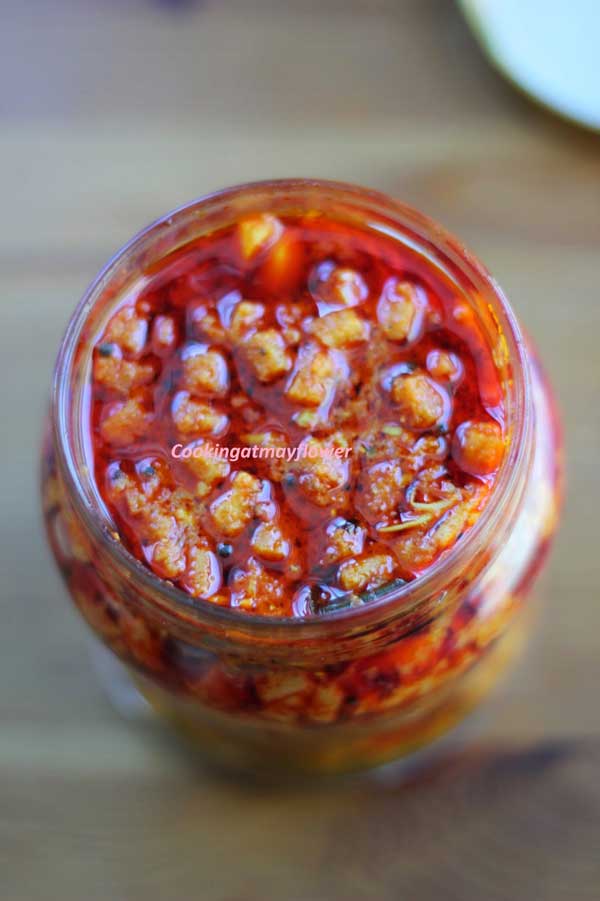 Ingredients
Vazhapindi / Banana stem, chopped – 4 cups
Sesame oil – 3/4 cup
Mustard seeds – 1 tsp
Garlic – 20 cloves
Ginger – 1-inch (2 pieces)
Curry leaves
Turmeric powder – 1 tsp
Kashmiri chilli powder – 2 tbsp
Fenugreek seed powder – 1 tsp
Asafoetida powder – 1 tsp
Salt – as needed
Vinegar – as needed
Method
Clean the banana stem and cut it into small pieces.
Grind 1o cloves of garlic and 1 piece of ginger to a fine paste. Set aside.
Chop the remaining garlic and ginger. Set this aside.
Heat oil in a pan. Splutter mustard seeds.
Add chopped garlic and ginger.
When it turns color, add banana stem pieces and ground ginger garlic paste. Stir well.
Allow water to dry out. When the water is almost dried out, add chili powder, turmeric powder, fenugreek powder, asafoetida powder, curry leaves, and salt. Stir well.
Lower the flame, close the pan with a lid, and cook for 2 minutes.
After 2 minutes, open the lid and switch off the stove. Leave this to cool down.
When it is slightly warm, but not cold, add vinegar and mix.
This pickle can be served instantly.