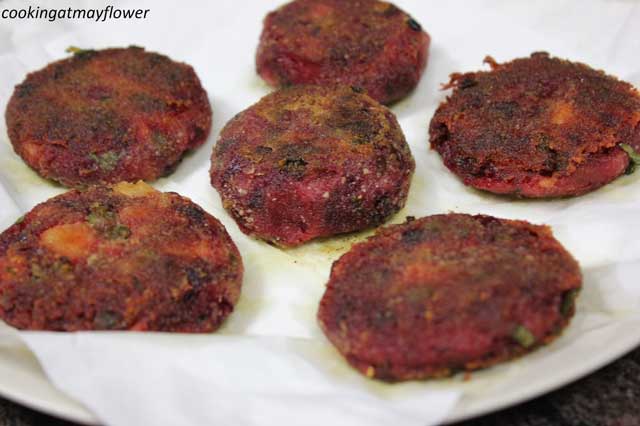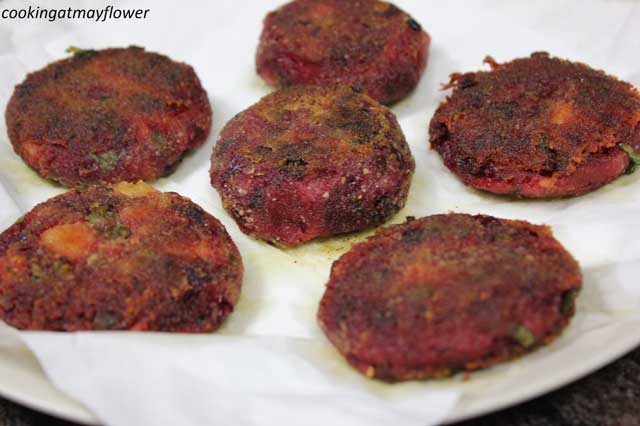 No wonder eating these cutlets make you walk down the memory lane to your favorite eatery – Indian Coffee House. Try Indian coffee house style beetroot cutlets and let us know how it turned out for you.
Here I have fried cutlets two ways – tawa fry and shallow fry.
Ingredients
Potato – 4 medium
Beetroot, grated – 2
Green peas – 1/2 cup
Onions, finely chopped – 1 no
Green chilies, finely chopped – 4 nos
Ginger, finely chopped – 1 tsp
Coriander leaves, chopped – 2 tbsp
Cumin seeds – ½ – 1 tsp
Red chili powder – 1 tsp
Turmeric powder – 1/4 tsp
Garam masala – 1 tsp
All purpose flour / Maida – 2 – 3 tbsp
Lemon juice – 1 tbsp
Breadcrumbs – 1 cup or as required
Method
Pressure cook potatoes. Peel and mash them. Set this aside.
Grate beetroots. Keep this aside.
Heat oil in a pan. Allow cumin seeds to crackle.
Now add onions, green chilies, and ginger. Saute well.
When onion is soft and changes color, add turmeric powder, red chili powder, garam masala powder, and salt. Saute for a minute.
Now add grated beetroot and mashed peas. Mix well. Cover the pan with a lid and cook till it is done.
When it is done, beetroot must be reduced in volume. Add all purpose flour/maida and mix well.
Now add coriander leaves and lemon juice. Mix well. Leave the mixture to cool down.
When the mixture turns cold, add mashed potatoes. Now roll the mixture into balls and press to flatten it or you can give cutlets any desired shape.
Now roll the cutlets in breadcrumbs and coat it evenly.
Heat a nonstick tawa. Place the cutlets on top of the pan. Drizzle oil on top and sides of cutlets. Now tawa fry on both sides of cutlet.
Beetroot cutlets and ready to be served.
If you are going for a shallow fried cutlet – First, make an all purpose flour and water mixture. Mix this well.
Now dip your cutlets in this mixture. Again dip it in breadcrumbs and coat evenly. Proceed to shallow fry.