INGREDIENTS
Potato, cut into small pieces – 1 cup
Carrot, cut into small pieces – 1 cup
Beans, cut into small pieces – 1 cup
Cauliflower, cut into small pieces – 1 cup
Capsicum, cut into small pieces – 1 cup
Oil
Ginger chopped – 1 tbsp
Onion chopped – ½ cup
Green chilli chopped – 1 tsp
Cumin seeds – 1 tsp
Tomato cut in to small pieces – ½ cup
Cardamom – 6
Cloves – 6
Cinnamon – 4 pieces
Mace – 6
Turmeric powder – ½ tsp
Chilli powder – 1 tbsp
Kasoori methi – ¼ tsp
Pepper powder – 1 tsp
Cashewnut paste – 1 cup
Salt as needed
Water – 2 cups
Coriander leaves as needed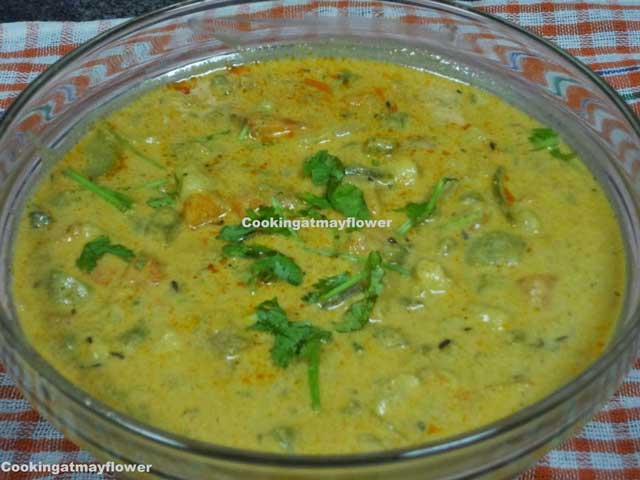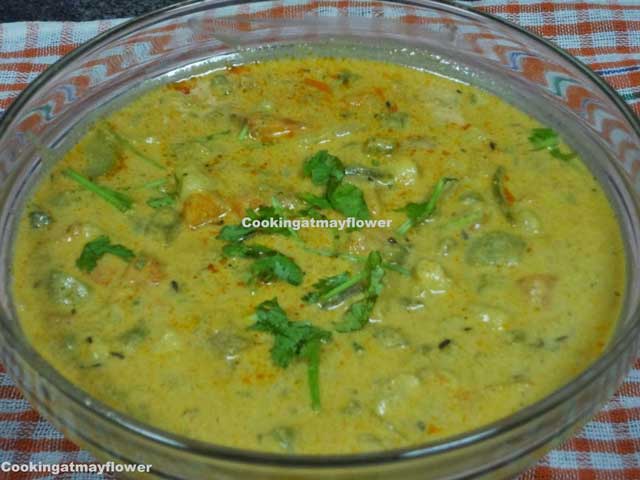 INSTRUCTIONS
Cook potato, carrot, beans, cauliflower and capsicum. Set aside.
Heat oil in a pan add. Splutter cumin seeds. Add ginger, onion, and green chillies. Saute well.
When onion is transparent, add tomato. Saute.
When tomatoes turn mushy, add cinnamon, cardamom, cloves, and mace. Saute them well.
Now add turmeric powder, chilli powder, pepper powder and kasoori methi.
When the masalas are slightly heated, add water and allow it to boil.
Add cooked vegetables and salt. When it starts to boil, add cashew paste.
When the gravy starts to thicken, Switch off the stove.
Garnish with coriander leaves.