Vellarikka pachadi is one of the most sort after pachadi in Onam Sadya.
Cucumber pachadi is a semi-thick, curd-based curry. The addition of yogurt and coconut makes the pachadi thick and delicious.
Madras cucumbers are used in cucumber pachadi.
Madras cucumbers are known as sambar cucumbers, Mangalore cucumbers, kani vellari, etc.
Onam Sadya is not complete without serving pachadi.
You might like other Onam Sadya pachadi:
Vellarikka pachadi
Beetroot pachadi
Bittergourd pachadi
Pineapple pachadi
Okra pachadi
What is an alternative for Madras Cucumber in Vellarikka Pachadi?
The best alternative would be regular cucumbers/salad cucumbers.
Note:- Discard the seeds and bitterness of cucumber if any while using it in curry.
If you had like to learn how to make vellarikka pachadi. Watch here.
Ingredients
Vellari / Madras Cucumber, cut into square pieces – 1 small
Grated coconut – 1 cup
Green chilies – 3 nos
Mustard seeds – 2 tsp (1 tsp for grinding + 1 tsp for seasoning)
Curd – ¾ cup
Coconut oil – 2 tsp
Red chillies – 2 nos
Curry leaves – few
Salt – as needed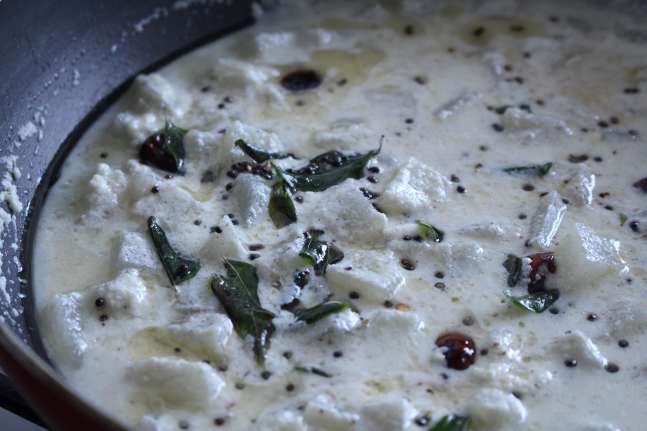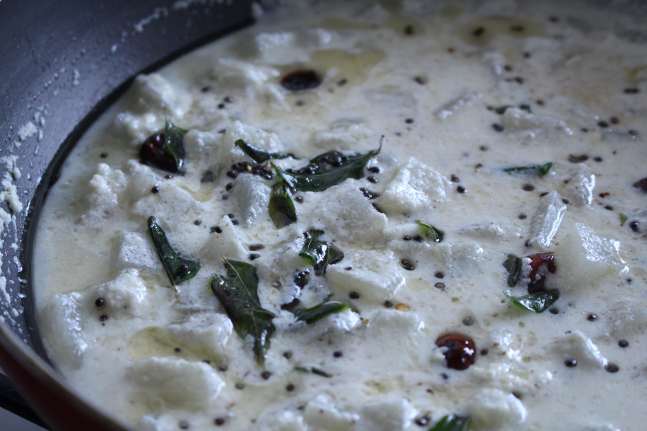 Method
Peel the skin of Madras Cucumber. Discard the seeds inside. Cut into square pieces.
Cook cucumber along with 2 tbsp of water. Keep this aside.
In a mixer jar, grind grated coconut, green chillies, 1 tsp mustard, and little water to make a smooth paste. Add little water to ground paste. Set aside.
When cucumber is cooked, add ground paste to it. Now lower the flame and cook for 2-3 minutes until raw smell of ground paste leaves.
When curry starts to boil, it will start to thicken. Now add curd and salt. Once curry is heated, switch off the stove. Don't allow curry to boil after adding curd.
Heat oil in a pan. Add mustard seeds. Let it crackle. Add curry leaves and dry red chillies. Turn off the stove.
Pour this over curry. Close the lid so that everything blends well.