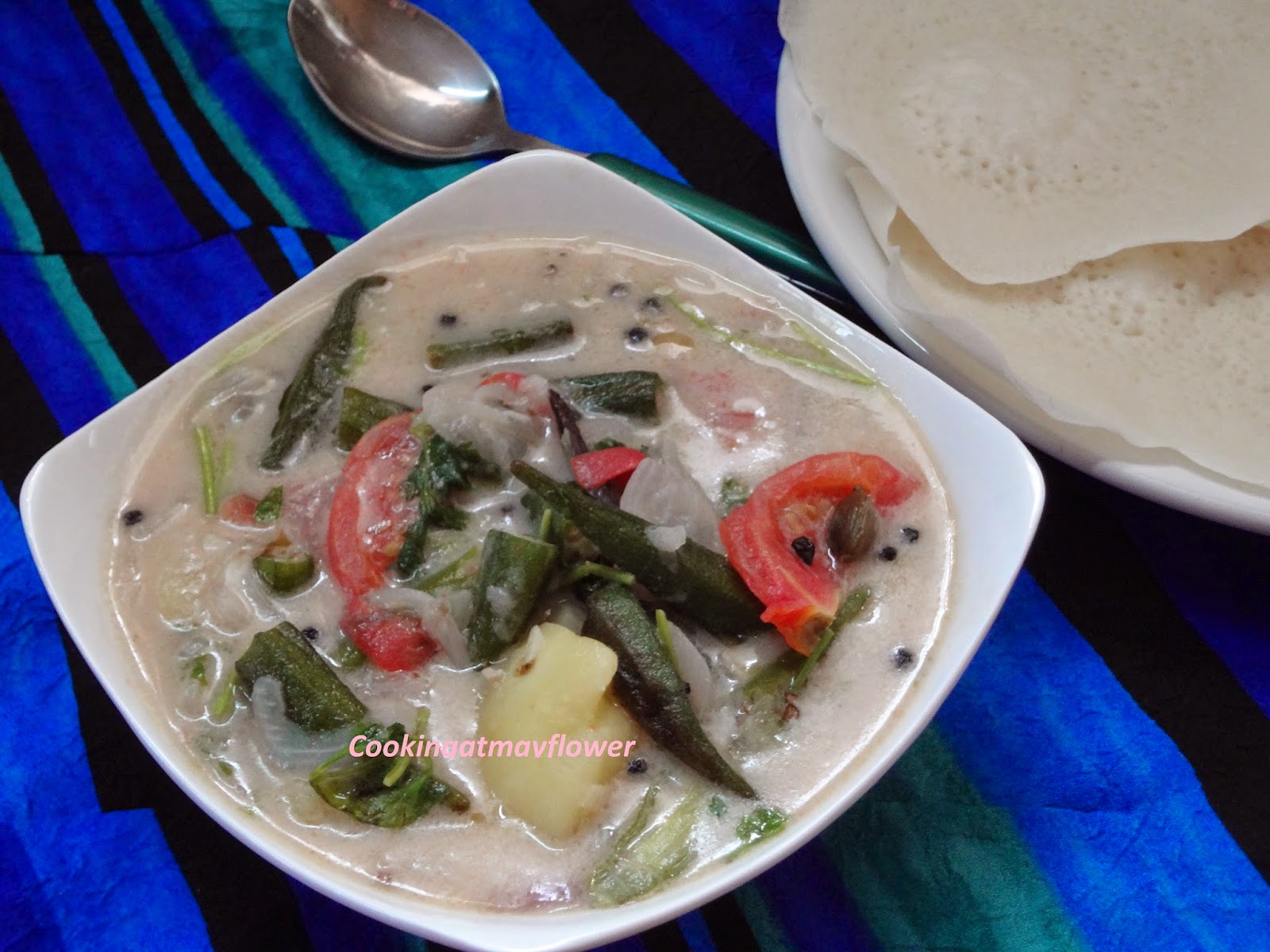 Ingredients


Vendakka/ Ladies finger/ Okra – 15 – 20
Potato – 2 medium
Tomato, sliced thinly – 1


Pepper corns – 1 tsp
Cardamom – 3 nos
Cinnamon – 2 small pieces
Cloves -5 nos
Onion, sliced thinly – 1 medium
Green chillies, slit – 5 nos
Ginger – a small piece
Garlic – 5 cloves
Curry leaves
Maida – 2 tsp
Coriander leaves chopped – 2 tbsp
Oil
Salt
Grated coconut – 1 cup


Thin coconut milk – 2 1/2 cups
Thick coconut milk- 1/2 cup



Method


Peel potato and cut into big pieces and pressure cook with 1/2 cup water and salt for 2 whistles.


Clean and wipe ladies fingers into 2 pieces. Marinate ladies fingers with 1/2 tsp salt .


Heat oil in a kadai Fry ladies fingers in the oil and keep aside ( do not change the green colour of ladies finger).


Heat oil in a pan, splutter peppercorns, cardamom, cinnamon and cloves. Saute onion, green chillies, ginger, garlic, and curry leaves. When onion turns light pink, add maida and saute well. Add pressure cooked potato in it and mix well. Add thin coconut milk and boil. When the stew becomes little thick, add tomatoes and fried ladies finger. Cook for 2 minutes and add thick coconut milk and coriander leaves. Switch off the stove. Enjoy the stew with appam.