Try this stir fried beetroots. They are yum!
If you need more reason why you should be eating beetroots. Read on.
Beetroot is a nutrient rich vegetable full of iron and vitamin A. It helps to reduce blood pressure. Beets are also rich in antioxidants, which help to reduce blood sugar and improve insulin sensitivity. Beetroot is good for your skin and hair.
Love Beetroots!!!
Beetroot cutlet
Beetroot poriyal
Beetroot Dhokla
Beetroot Tonic
Beetroot cake
Beetroot Rice
Healthy ABC Juice
INGREDIENTS
Beetroot – 1 big
Oil – 2 tsp
Mustard seeds – 1 tsp
Urad dal – 2 tsp
Pepper powder – 1 tsp
Salt as needed
Sugar – 1/2 tsp (Optional)
Vinegar – 1 tsp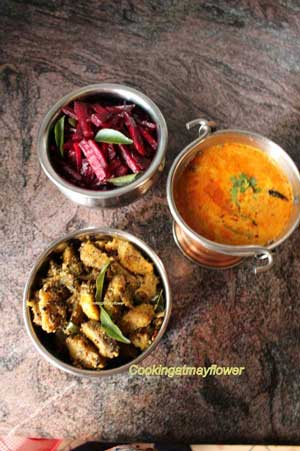 INSTRUCTIONS
Pressure cook beetroot with the skin on (do not overcook the beetroot). Peel the skin and cut into desired shape. Keep aside.
Heat oil in a pan. Splutter mustard seeds and urad dal. Add beetroot and mix well. Add pepper powder, sugar, salt and vinegar. Saute well for 2 minutes. Switch off the stove. Serve hot with rice, sambar, rasam, etc.